In vitro fertilisation is a procedure in which eggs are fertilised by sperm outside of the body in a laboratory setting. These eggs are fertilised and implanted into the uterus, where they may expect to become pregnant and give birth to a child nine months later.
IVF cost division is very important because it determines how many cycles are performed and how many babies are born. IVF success rate is also determined by how much money is spent on each cycle.
Every fertility clinic and every fertility specialist has their unique method of providing therapy, and in that case, they will notify you about the hidden costs associated with IVF treatment.
Types of offers given by hospitals
IVF is a rapidly expanding technology, and its market is likewise expanding at a rapid pace. Many new IVF clinics have just opened, and they're ready to provide a wide range of deals and discounts.
The cost of the injections is the only thing the patient is responsible for a free blood test, free fertility camp, and free sperm inspection. 
The cost of IVF may be lower at certain facilities than at others, but hidden costs like medicines, freezing, and hatching may still apply.
Many businesses additionally provide money-back guarantees if the pregnancy doesn't happen. A single IVF cycle might cost up to 1.5 to 2.5 lakh rupees in India, even with all the complimentary stuff offered to Indian couples.
In light of the above, patients should review all terms and conditions before signing anything since additional fees may not be disclosed in the fine print. It's a good idea to study the small print in the hospital contract since you'll learn about any additional fees or charges that may apply. If a "money back" guarantee is offered, it does not imply that the company will pay the whole amount owed. As a result of not reading all of this, patients become unable to go on. 
The success rate of this IVF therapy is not 100%; rather, it is just 30 percent. Because of this, this therapy may have to be repeated, and when people pay 1.5 lakh to 2.5 lakh rupees after hearing about this money-back promise and they don't get to undergo this treatment again, it's a big problem for the patient.
Because of this, it is essential that you be well-informed about the therapy and that you enquire fully with your physician.
The actual cost of IVF
The cost of IVF in India is broken down into two categories: basic and advanced. When both spouses produce healthy eggs and sperms for fertilisation, basic IVF therapy is used, while advanced IVF treatment is used when one of the couples has a problem with their sperms or eggs.
However, the cost of IVF may range from Rs. 1,50,000 to Rs. 4,00,000 depending on the couple's infertility scenario.
However, between 1,75,000 to 2,00,000 Indian rupees is the average cost of an IVF treatment, including fertility medicine, ultrasounds, and IVF procedures until embryo transfer.
An Indian couple may receive the finest IVF Treatment Cost while receiving all of the basic to advanced fertility procedures.

Conclusion
Cost is usually a decisive issue for many couples considering their options when it comes to fertility therapy. This is something that you can all connect to. As a result, you get many inquiries from prospective customers on the cost of IVF therapy.
However, it is feasible to offer a simple range, which may be deceiving at first glance. This is since no two IVF procedures are the same. The health state of patients varies greatly.
One of the most common and well-known reproductive procedures is in vitro fertilisation, or IVF. First, women are given fertility medicines to induce the production of additional eggs, then the eggs are removed, and the healthy embryos that have grown are implanted into the uterus.
read more
In the world of medical research, the discovery of IVF has aided couples in conceiving a healthy biological child. It is described as a technique in which a woman's eggs are taken from her ovaries and fertilized in a laboratory with a man's sperm.
read more
Was this blog helpful for you?
Give us a clap
claps,
they found this blog helpful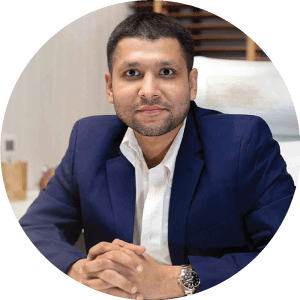 Dr. Jay Mehta
Fertility and IVF Specialist
Dr. Jay Mehta is the Scientific Director of Shree IVF Clinic. He is a well-known Fertility and IVF Specialist and also among few doctors in the country who specializes in Embryology and Andrology.