What is Prepregnancy Counseling?
One should differentiate pre-pregnancy counseling from antenatal care. Pre-pregnancy counseling includes informed choice, which lets men & women know the health issues that may create a mess with pregnancy and conception. During this session, you and your partner will be encouraged to actively prepare for pregnancy and stay as healthy as possible. The candidate will also be optimized to manage any severe health problems. Pre-pregnancy counseling also helps make the couple understand that there are many rules and regulations that they need to follow during this time.
Why is it important?
All couples do not opt for pre-pregnancy counseling, but the counseling season is significant in most cases. In many cases, it is seen that a couple had a problem during the sessions of conceiving or any one of the partners have health issues that may result as a complication. Hence, counseling can help to solve such issues.
With the help of counseling, most of the problems faced during pregnancy by a couple may not occur. There are many reasons why pre-pregnancy counseling is essential. Some of the reasons are:
Counseling can help both the doctor and the couple to know whether it is the right time to conceive or not.
Couples who undergo pre-pregnancy counseling when they meet with non-pregnant women or men can understand the need for a counseling session. Therefore they get an opportunity to counsel about health habits and wellness, which may ultimately improve their obstetric and reproductive outcome.
Couples will get a chance to reduce the risk of severe health effects for the fetus, woman, and infant when born.
Any couple who opt for a counseling session must be informed to seek medical assistance before attempting to conceive or soon when they believe they can become pregnant on the appropriate date. The woman must be monitored regularly to assess for any need of medical condition.
Medical conditions such as hypertension, thyroid disease, diabetes have direct implications on pregnancy. With pre-pregnancy counseling, couples will get enough knowledge to seek help from experts to manage the conditions optimally.
Pre-pregnancy counseling involves reviewing all non-prescription and prescription medications. This scanning process will help to include herbal products and nutritional supplements that are not considered as medications but needed by patients as they affect pregnancy and reproduction.
For pregnant women, screening for identical genetic conditions is presented in the pre-pregnancy counseling sessions. This is highly commended for women who are conceiving.
Immunization status is assessed on an annual basis by women who are of reproductive age. It helps assess the Tdap or Tetanus toxoid, reduced Diphtheria toxoid, and Acellular Pertussis; rubella-measles-mumps; varicella, and hepatitis B.
The counseling session helps the patients to receive influenza vaccination annually. This will let the women who are pregnant or willing to be pregnant with additional benefits.
The pre-pregnancy counseling session helps to assess the requirement for STI or sexually transmitted infection screening.
Pre-pregnancy counseling is also necessary because patients will be asked about the use of nicotine products, alcohol, and drugs during the sessions. This will help the doctors assess what kind of prescribed medications the couple is consuming and what drugs will be best for them.
Who should go for it?
Anyone who wants proper guidance and avoids any complications during the days of pregnancy and after the newborn should opt for pre-pregnancy counseling. Here is a list of candidates who must try these counseling sessions, as it will surely benefit them a lot.
Candidates who have tried repeatedly to conceive but failed to experience the desired outcomes.
Have previous records of stillbirths and miscarriages.
In the case of congenital disabilities in a previous child.
Suppose the couple undergoes exposure to environmental toxins. It could harm the process of conception or hamper the fetus's development during the days of pregnancy.
In case the mother who is expecting suffers from any lifestyle conditions like low blood pressure or hypertension, diabetes, etc.
If both of the partners suffer from any medical issues related to the liver, kidneys, heart, etc.
If the pregnant mother had a record of a previous surgery affecting the pregnancy, for example, heart surgery or renal failure.
In case the expectant mother is suffering from autoimmune diseases.
What does pre-pregnancy counseling include?
Pre-pregnancy counseling includes educating the couple as well as the entire family about different aspects of pregnancy. Here is a list of services that pre-pregnancy counseling includes:
Best timing of pregnancy
Pregnancy spacing and family planning
Psychiatric, medical, and surgical histories reviewed
Current medications reviewed
Genetic and family history reviewed
Immunizations
Screening of any infectious disease
Assessing individuals with HIV or Human Immunodeficiency Virus
Assessing of any use of the substance
Exposure to sexual and reproductive coercion, violence, and intimate partner violence
Assessing of any nutritional status
Reaching and continuing a healthy body weight
Assessment of daily exercise and physical activity
Dating for pregnancy
Chronic disease management
Genetic carrier and disorder states
Diabetes management
Blood tests
What happens at a Pre-conception Counseling?
There are different kinds of assessments that happen during pre-pregnancy counseling. Here is a list of what happens during the session.
1. Chronic disease management
Any woman having a severe disease should review that with the doctor at pre-conception counseling before getting pregnant. This may help to reduce the chances of risks for both the child and the mother.
2. Genetic carrier and disorder states
During preconception counseling, families who had a history of genetic orders are referred to the genetic counselors. The risks of forwarding the disorders to the child are discussed.
3. Folic acid benefits
Counselors discuss that folic acid use in the early days of pregnancy or before getting pregnant might help prevent NTDs or Neural Tube Defects. During the session, women who are having the reproductive age are prescribed folic acids. This is asked to be continued during the pre-conception till the last day of pregnancy.
4. Pregnancy of short time interval
Maternal mortality, preterm delivery, maternal morbidity, rupture of the membrane in the early stage, myometritis, anemia, and third trimester bleeding are all associated with the pregnancy of short time intervals.
During the counseling session, the negative impact caused due to pregnancy of short time intervals will be reduced.
5. Cessation of smoking
Candidates will be given knowledge about the use of tobacco during the pre-conception days and during pregnancy. They are all associated with intrauterine growth retardation, preterm labor, placenta abruption, and low birth weight.
Low birth weight and prenatal mortality are reduced by smoking cessation. Pre-conception counseling helps the couple to opt for smoking cessation. This will help to reduce the negative impact on the prenatal period and fertility.
6. Use of alcohol
The woman and her partner will be given education about the negative impact of alcohol during the days of pregnancy. It is associated with fertility problems and fetal alcohol syndrome. There will be restrictions on the use of alcohol in case the couple is planning for a pregnancy.
There is no recommendation for a safe level of alcohol in the literature during the time of pregnancy. The outcome might be adverse neuropsychological outcomes in the infant. This issue is addressed in pre-conception counseling.
7. Obesity
Diabetes, congenital heart diseases, hypertension, and increased risks of difficulty during delivery are associated with obesity. Doctors will suggest reducing obesity by prescribing proper medications or recommending to contact a dietician to avoid the complications related to obesity.
8. Underweight
Pre-conception counseling assesses the woman with malnutrition so that the risks for deficiency of nutrients decreases. Nutrient deficiency leads to preterm delivery and low birth weight.
9. Management of diabetes
During the pre-conception period, counseling focuses on education and disease management, weight management, knowledge about the expected risks to the mother and the child, optimal control caused due to increased level of diabetes.
10. Management of infectious disease
Couples receive accurate information about the potential risks and treatment of the mother and the newborn. There are different kinds of infections that might have long-term adverse effects. Here is a list of such infections:
Hepatitis B
HIV or Human Immunodeficiency Virus
Tetanus
Measles, Mumps, Rubella, or MMR
Tests performed during preconception counseling
Various tests are performed during the pre-conception counseling session. Below-mentioned is a list of tests performed:
1. Routine blood tests
This is done to determine the health conditions of both partners. This test helps determine if the partners or individuals need any medication or treatment to have no complications in conception and pregnancy.
2. CBC count
This test is done to avoid the chances of anemia. There is an adverse effect on the fetus's health and development due to low hemoglobin.
3. Antibody testing
IgG antibody to German measles or Rubella is checked in the expectant mother, whether she is immune to it or not. In case she is found to be not immune, doctors prescribe for vaccination.  It is suggested that she should not opt for pregnancy unless the virus is not cleared for the blood. It ideally takes about one month.
4. Thyroid test
The thyroid causes infertility issues. A test only detects the presence of thyroid in a maximum of the cases. Lower IQ in infants and neurodevelopment might be the outcome if one decides to get pregnant without solving the issue.
5. Thalassemia screening
This test is performed on both the parents to determine if there is any thalassemia gene. There will be a 25% chance of having a child with this condition.
6. Vitamin deficiency
This is very natural in women. But a deficiency of vitamin B12 or vitamin D can cause problems in the pregnancy or during lactation. It is vital to correct such issues during conception or pregnancy.
7. Pap smear test
This test is conducted to check whether there are any cancerous cells in the cervix or not.
8. Genetic counseling
In case the couple had trouble during a previous pregnancy, this test determines example, stillbirth, recurrent miscarriages, restricted growth, congenital disabilities, such issues. Treatments are conducted to reduce the risk or avoid the chances of the same during the upcoming pregnancy.
9. Sexually transmitted diseases tests
Both partners are tested for STI or sexually transmitted diseases like HIV, VDRL, Hepatitis C, and B.
How to prepare for the visit?
Before you and your partner decide to visit a pre-pregnancy counseling session, always make yourself prepared. Follow the tips below to prepare yourself:
1. Medical records must be in one place
If you have any record of a successful pregnancy, past surgery, or consuming any medication, get the details of everything when you plan a visit for counseling. Ensure that both of you come prepared with an individual's set of medical records ready along with the list of medications.
2. Visit the chamber with an open mind
Do not always expect the doctor's check-up and analysis in your favor. Do not get disappointed if things are not according to what you expected to be. Try to look for more options and have a talk with your partner. Decide the next step by talking to your partner. Every human body is not the same, but significant innovations can solve any issues if found.
3. Have good communication with your doctor
You must have good communication with your doctor. Do not miss to provide any details to the doctor. Your doctor must be informed about the previous medications, vaccinations, hospitalizations that both of you had before planning to have a child. Your prior record of drugs and health crisis may sometimes come in the way of your pregnancy.
What to expect during a Pre-pregnancy check-up?
The doctor will start the check-up once the full medical history is provided to the doctor from you and your partner. They will also conduct several tests, such as Pap smear and blood tests.
These tests are performed to ensure that neither you and your partner have any serious medical issues that might affect the days of pregnancy or chances of getting pregnant.
A pre-pregnancy counseling test is helpful for you and your partner. The test has all the pros and not a single con. If there are any issues found during the trial, multiple medical innovations can help you overcome those and give birth to a healthy baby. Always plan to go for this test with an open mind.

 Google Reviews

Faiza Wadia
Dr Jay sir is the God of Endometriosis. There is no one better and more honest than him. Assistants Vismay sir and toral madam and harshita madam are so good.
I am operated here for severe endometriosis of the urine bladder. I am done laparoscopic surgery here under guidance of Jay sir. My recovery is excellent and I am heading back home in a day itself.
For people who have endometriosis, this is the person to go to.

Umesh
My wife was suffering from scar endometriosis for a period more than 1.5 years. We visited lot many doctors who gave us different opinions at different times.
We came to know about Dr. Jay from YouTube videos. He gave us best advice. In Sept 21, my wife got operated at his hospital and relieved of all the pain. Lot many thanks to you sir.

Basavaraj N
The best doctor for endometriosis in India and Mumbai.
We came from Karnataka to Mumbai to do surgery. He is such a famous surgeon and a doctor. Extremely impressed with your humble behavior.
My wife had bowel endometriosis. There is one thing that I wish to mention. He is a very straightforward doctor. He answers everything, but he doesn't take over the smart nonsense of the patient.
Don't go by his simplicity, he will make such strong punchlines that your ego will come down to earth. He asked me to be a MAN. I will never forget that motivation

B S KHAN
One of the best endometriosis doctor for doing surgery. We have come to Mumbai from Jalgaon for this surgery. Very fantastic hospital. Very famous dr jay Mehta and very kind with heart.
All blood tests are done in hospital only so no running around to laboratory again and again. There are many good food joints around for out of Mumbai patients to eat good food. Thank you staff for kind guidance.

Nawab Saab
I was suffering from severe endometriosis since years. We have had previous 3 surgeries. The pain was excruciating.
Finally we were told about Dr Jay Mehta by our doctor. My surgery was a big one. It involved bowel resection for endometriosis.
Dr Jay had assured me that I will up and bout in the next day of surgery and here I am. Going home. Pain free. This is one person who is GOD for me. I don't know how best to thank him. Thanks a lot. You are by far the best doctor for Endometriosis Treatment in Mumbai,  I have met in my life.
Thoroughly impressed by your direct and honest approach.

Nausheen Khan
The best doctor in India for Endometriosis. I am actually honored to be treated by Jay sir.
I had come to him 3 years ago when he told me about surgery, but I got misguided by many other doctors and I took a leupride of 11 injections. Unhappy with the result and pain, I come back to Jay Mehta sir.
He scolded me but then operated on me too. I thank you him, for being so an honest and genuine doctor.
The KING of Endometriosis as he is rightly called, considers my finances and operates me in charity surgery. My family bless you always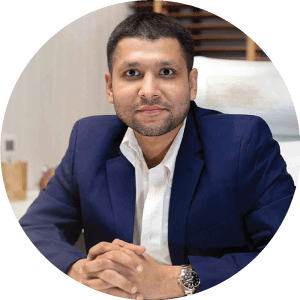 Dr. Jay Mehta
Fertility and IVF Specialist
Dr. Jay Mehta is the Scientific Director of Shree IVF Clinic. He is a well-known Fertility and IVF Specialist and also among few doctors in the country who specializes in Embryology and Andrology.