What is Maternal Health?
Maternal health is usually regarded as health during pregnancy, childbirth, and the period afterward. In other words, it is delimited by a time period and a physiologic state – parturition. Supporting maternal health is what every mother counts. It refers to a woman's general health when she conceives and posts giving birth. Maternal health should not be confused with midwives, doctors, hospitals, trained birth attendants, and clinics. They are a part of it but not the only factors that define maternal health.
Everything You Need to Know About Maternity
Health conditions or problems during pregnancy
During pregnancy, the body of a woman undergoes a great deal. Sometimes the changes in the body cause discomfort and irritation, and sometimes you have to be concerned. It would be best to mention everything that is bothering you during your pregnancy despite not facing any alarm.
There are many health conditions and problems during pregnancy that a woman has to face. Some of them are:
1. Constipation
You may become constipated due to hormonal changes that your body faces at the early stages of your pregnancy. Eat foods like cereals, wholemeal bread, vegetables and fruits, beans, lentils to avoid constipation. You may also exercise regularly to tone the muscles and drink plenty of water to prevent constipation. Try to avoid iron supplements and ask your doctor if there is an alternative. Iron supplements cause constipation.
2. Cramps
Sharp and sudden pain in the feet or calf muscles is known as cramps. Cramps are most common during the night time. There is no reason for cramps, but few ideas are about why they are caused and why it is faced during pregnancy.
You may exercise regularly during pregnancy, particularly leg and ankle movements, to prevent yourself from cramps. This will help to improve circulation.
3. Feeling faint
Often pregnant women feel faint. This happens due to changes in the hormone. Your brain is unable to get enough blood; hence there is not enough oxygen in the brain. This causes feeling faint when you stand up or are out of a bath. It may also happen when you are lying on the back.
There are many ways by which you can avoid feeling faint. Try to stand up slowly after lying or sitting down. In case you feel faint when you are standing, quickly find a seat and notice the feeling of faint is passing. And in case you are lying on your back and having the same feeling, turn on the other side. Try to avoid lying flat on the back during the days of pregnancy. It can result in higher chances of risk of stillbirth.
4. Feeling hot
You will experience a feeling of hotness during pregnancy again due to hormonal changes. The blood supply to the skin will increase, and you are most likely to sweat most of the time. Try to wear loose-fitting clothes that are made of fibers. Natural fibers are breathable and absorbent when compared to synthetic fibers. You must also keep your living room cool by using an electric fan. Wash frequently so that you can feel fresh.
5. Incontinence
This is a widespread problem faced by women during pregnancy. A sudden need to pee or small urine leakage cannot be prevented during pregnancy, usually, when they laugh, flick, cough while getting up from a sitting position, or sneeze. This is a temporary problem because the muscles around the bladder relax for the preparation of the baby's delivery. Incontinence is treatable. Talk to your doctor regarding this issue.
6. Peeing a lot
During the early stages of pregnancy or in many cases until the baby is born, peeing a lot continues. This is mainly caused due to the head of the baby, which is pressing the bladder. To avoid this, do not consume drinks in the late evenings to get up to pee at night can be prevented. Try to consume a fair amount of non-alcoholic beverages and drinks free from caffeine during the daytime.
7. Hair and skin changes
Due to hormonal changes in the body, the nipples and the surrounding areas of the nipples will be darker. The color of the skin may also get darker, and there may be few patches. In case you have moles, freckles, and birthmarks, they may even get darkened.
There can also be dark lines below the middle of your stomach. These changes are temporary and will gradually fade once the baby is born. Try to protect the skin by using high-factor sunscreen and not expose yourself to the sun for a long time.
The growth of hair increases during the time of pregnancy. And the hair will be greasier. After the newborn, mothers complain of losing hair, but they shed off the extra hair.
8. Varicose veins
These are the veins that have swollen and are known as Varicose veins. They are uncomfortable but not at all harmful. Long veins are affected by varicose veins. Varicose veins can also be found at the vulva or vaginal opening. These problems become better after the birth of a child.
Pregnancy complications
When you are expecting, it is an exciting and emotional time, and this is more special when it is your first baby. You will notice a lot of changes in the body. Many of the pregnant women are perfectly normal, and most of them have healthy and safe pregnancies.
Before pregnancy
During the early months of pregnancy, you will need to pay more attention to some symptoms. You will face little bleeding, nausea, and vaginal discharge.
During pregnancy
There are most situations where pregnancies occur without any complications. However, there are also some complications faced by pregnant women, which makes their health and the baby's heath complicated. But all these complications are for a short time and can be overcome easily.
Maternal health care
Maternal health care generally refers to the state of a woman's health when she is pregnant, during the time of labor, and post giving birth to a child. Maternal care is essential for both the health of the mother and the baby.
Before pregnancy
There are various steps you must remember to make yourself ready for the healthiest pregnancy possible. Some of them are:
Increase your folic acid –  Folic acids help to make new cells in the body. During pregnancy, the cells are dividing at the same time, growing at a rapid speed. Folic acid is essential during the time of pregnancy. Folic acids can prevent anencephaly and neural tube defects. These occur during the early stages of pregnancy.
Preconception checkup schedule – It is imperative to get control of any chronic conditions when you are pregnant. Identifying the issues at an early stage can help prevent any disease and increase the chances of a healthy pregnancy.
Try to avoid drinking alcohol and restrict yourself from smoking – Drinking alcohol and smoking increases the chances of preterm delivery, SIDs or sudden infant death syndrome, NTDs, and fetal alcohol spectrum disorders. If you decide to stop such practices, talk to experts. Having support from the experts can help you to quit such practices very quickly.
Do not be overweight or underweight – In the case of overweight, the chances of facing difficulty in conceiving also increase. The risks of specific issues also increase rapidly during pregnancy. Try to shed the excess weight before becoming pregnant to avoid gestational diabetes, high blood pressure, and having a stillbirth.
Avoid certain fish – Certain fishes contain mercury. Try to avoid those fishes that contain mercury, such as shark, swordfish, king mackerel, and tilefish. Exposure to methyl mercury can damage the developing fetus. Consuming these fishes regularly will make your bloodstream full of mercury.
During pregnancy
Here are some tips that can help you stay healthy during the time of pregnancy.
Eat right
Get your vitamins
Try to stay hydrated
Certain foods must be avoided
Need for proper parental care is essential
Stop drinking alcohol
Get moving
Stop smoking
Get adequate sleep
Flu shot is important
Choose the best time to conceive
Do not take the stress
Avoid caffeine
Do light exercises, especially yoga
Get an adequate amount of iron and calcium.
After pregnancy
The period after the pregnancy is known as the postpartum period. This period is generally referred to as the first six weeks after the newborn. This period is a joyous and exciting time for the entire family. But for mothers, this is a period of healing and adjustments.
All these weeks, you will get a chance to bond with your newborn, and you will also undergo a post-delivery checkup. Follow these tips to keep yourself healthy during the postpartum period.
Get yourself plenty of rest
Try to seek help
Consume healthy meals
Exercise daily
The above mentioned are the common tips given to every mother during the postpartum period. But some mothers often undergo depression during this period. This is when the newborn is an adjustment for the mother and the entire family. A newborn can also change the dynamics with your partner.
Being patient is very important for starters. Every couple faces charges after a newborn, but it takes time and effort to overcome the changes. With each passing day, caring becomes easier.
You may sometimes face depression also. Try to communicate with your doctor in case you feel that depression is lasting for a longer time. The depression can develop any time after the delivery and is very easy to overcome by taking help from experts.
The bottom line
Giving birth to a child can cause changes in the entire routine and also in a family. This will eventually pass once you start to adjust. Any physical or emotional changes you face during this period will improve slowly. Talk to your doctor whenever you want to seek help about any concerns. All these are very easy to overcome.

 Google Reviews

Faiza Wadia
Dr Jay sir is the God of Endometriosis. There is no one better and more honest than him. Assistants Vismay sir and toral madam and harshita madam are so good.
I am operated here for severe endometriosis of the urine bladder. I am done laparoscopic surgery here under guidance of Jay sir. My recovery is excellent and I am heading back home in a day itself.
For people who have endometriosis, this is the person to go to.

Umesh
My wife was suffering from scar endometriosis for a period more than 1.5 years. We visited lot many doctors who gave us different opinions at different times.
We came to know about Dr. Jay from YouTube videos. He gave us best advice. In Sept 21, my wife got operated at his hospital and relieved of all the pain. Lot many thanks to you sir.

Basavaraj N
The best doctor for endometriosis in India and Mumbai.
We came from Karnataka to Mumbai to do surgery. He is such a famous surgeon and a doctor. Extremely impressed with your humble behavior.
My wife had bowel endometriosis. There is one thing that I wish to mention. He is a very straightforward doctor. He answers everything, but he doesn't take over the smart nonsense of the patient.
Don't go by his simplicity, he will make such strong punchlines that your ego will come down to earth. He asked me to be a MAN. I will never forget that motivation

B S KHAN
One of the best endometriosis doctor for doing surgery. We have come to Mumbai from Jalgaon for this surgery. Very fantastic hospital. Very famous dr jay Mehta and very kind with heart.
All blood tests are done in hospital only so no running around to laboratory again and again. There are many good food joints around for out of Mumbai patients to eat good food. Thank you staff for kind guidance.

Nawab Saab
I was suffering from severe endometriosis since years. We have had previous 3 surgeries. The pain was excruciating.
Finally we were told about Dr Jay Mehta by our doctor. My surgery was a big one. It involved bowel resection for endometriosis.
Dr Jay had assured me that I will up and bout in the next day of surgery and here I am. Going home. Pain free. This is one person who is GOD for me. I don't know how best to thank him. Thanks a lot. You are by far the best doctor for Endometriosis Treatment in Mumbai,  I have met in my life.
Thoroughly impressed by your direct and honest approach.

Nausheen Khan
The best doctor in India for Endometriosis. I am actually honored to be treated by Jay sir.
I had come to him 3 years ago when he told me about surgery, but I got misguided by many other doctors and I took a leupride of 11 injections. Unhappy with the result and pain, I come back to Jay Mehta sir.
He scolded me but then operated on me too. I thank you him, for being so an honest and genuine doctor.
The KING of Endometriosis as he is rightly called, considers my finances and operates me in charity surgery. My family bless you always
There are two ways to deliver a baby: through normal delivery or by c-section. Both have their own risks and benefits, so it's important for pregnant mothers to understand the difference between the two procedures.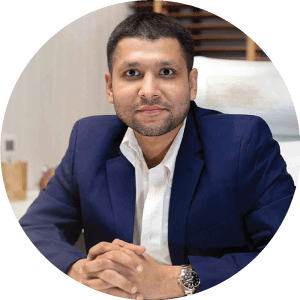 Dr. Jay Mehta
Fertility and IVF Specialist
Dr. Jay Mehta is the Scientific Director of Shree IVF Clinic. He is a well-known Fertility and IVF Specialist and also among few doctors in the country who specializes in Embryology and Andrology.