What is a High-Risk pregnancy?
A pregnancy that endangers the life and health of the mother or her baby is a high-risk pregnancy. Some pregnancy can turn into a high-risk pregnancy after some time as they grow. However, some women carry a risk of complications from before due to various reasons. For pregnancies like this, it is advisable to take the assistance of trained helpers or specialists. If you go through proper care and regular prenatal checkups, then the risks get reduced, and the chance of healthy pregnancy increases.
Symptoms of High-Risk pregnancy
During pregnancy, it is essential to be alert all the time and provide attention to the body. Look out for any signs or indications that the body is providing to prevent any mishap. While talking about the symptoms of high-risk pregnancy, they are as follows:
There is bleeding in your vagina.
There is unbearable abdominal pain and also in the pelvis.
You are losing consciousness. It is a difficult situation, and you should take the support of others in this situation.
There is a leakage in your vaginal. This leakage is because the umbilical cord may be bulging out into your vagina.
There is consistent back pain or pelvic pressure.
Your baby is moving less than usual or not moving at all.
There is a swelling in your hands, face, feet, severe headache, and blurred vision. These symptoms are signs of preeclampsia.
Risks factors for High-Risk pregnancy
There are a couple of risks associated with a high-risk pregnancy, as mentioned down here:
Overweight or obesity – High-risk pregnancy can cause obesity, which leads to high blood pressure, gestational diabetes, preeclampsia, stillbirth, cesarean delivery, and neural tube defects. Researchers also say that due to heavyweight, there is a greater chance that the baby may suffer from heart disease.
Health problem – The mother may have diabetes, high blood pressure, or HIV-positive.
Multiple births – The risk with high-risk pregnancy increases many folds in the case of twins or triplets. The complications include premature labor, preeclampsia, and preterm birth. More than ninety percent of multiple birth babies have been born before 37 weeks of gestation period.
The mother's age – If the mother is a teen or a woman older than 35 years, the chance of high-risk pregnancy increases, leading to preeclampsia and high blood pressure.
Medical conditions that occur during pregnancy
Most of the pregnancy does not suffer any medical conditions. But if there is the complication can harm both the mother and the baby. When talking about complication, few conditions are prevalent like the following:
Hyperemesis Gravidarum – A little morning sickness is common for all pregnant women, but if the sickness increases to thousand times? This severe sickness is the case of HG. In HG, women suffer through extreme nausea, resulting in immediate hospitalization or sudden weight loss.
Gestational Diabetes – In this type of diabetes, the baby's growth is more than usual, and the condition is known as macrosomia. As the baby has grown larger, his/her shoulder may get stuck during the delivery. If the above case is not safe for standard vaginal delivery, the doctor may perform a cesarean section.
Placenta Previa – Placenta's primary function is to provide the baby with oxygen and nutrients to grow properly. Typically, the placenta is on the top of the uterus. But in this case, it is between the uterus and the vagina, i.e., the cervix. The main symptom of this disease is extreme vaginal bleeding.
Preeclampsia – In preeclampsia, women suffer from too high blood pressure, which can be life-threatening. Women can have preeclampsia after twenty-week of being pregnant. Women don't need to have a blood pressure problem to have preeclampsia. If you have a vision problem, severe headache, and back pain, you should consult your doctor for preeclampsia.
Management of High-Risk pregnancy
There are some tips that you can follow for managing high-risk pregnancy like:

Know your problem – It's always necessary to consult a doctor if you are going through any abnormalities that may result in a medical condition. Various diseases require immediate attention, like gestation diabetes, preeclampsia, placenta previa, or fetal abnormalities. If you suffer from any of the following, you must know all the complications relating to it to avoid a delivery problem.
Inform your family – Take the support of your partner and your family. Inform them and explain to them about all the complications. During this time, you will require friends and family to express your feelings and help you out at work. They can also help you in case you get unconscious suddenly. You can also go to a high-risk pregnancy support group. It helps a lot build confidence and stay positive.
Take proper self-care – You should take more self-care for both you and your baby if you suffer from a high-risk pregnancy. Eat a balanced healthy diet, have a good sleep, release your stress, perform a light exercise, and stay away from harmful environment. These suggestions can help a lot with standard delivery.
Listen to your body – You must listen to yourself, do whatever you feel like doing. If you feel like resting the whole day, rest, you feel like eating something, eat that thing. Its not necessary to follow your routine daily you can always change it. And if you are not feeling good from inside, inform your doctor.
Express your emotion – During pregnancy, you can feel a lot emotionally and go through many mood swings. It's normal. Please do not hold back your emotion. Express it in full intensity. Do not worry; your family will understand. The mood swings can be because of health pressure or even hormonal changes. If you feel a lot of emotions, do meditation; it will help you. Distract your mind by taking a walk or talking to your friend.
Do and Don'ts of High-Risk pregnancy
It's an excellent idea to know all the do & don'ts from before. It makes the process a lot easy & healthy. Try to follow it for a healthy delivery:
Dos
Before planning your pregnancy, visit a doctor to discuss appropriate conditions to have a baby.
With proper consultation of your doctor, take prenatal vitamins from before your pregnancy, i.e., one or two months before.
Eat a balanced diet food and perform regular exercise.
Go for regular checkups during your pregnancy to check the health of your baby too.
Always make sure that you deliver in the hospital with proper health care support for a healthy delivery.
Don'ts
Don't panic; it can affect the health of the baby.
Do not search for medical problems on the internet. Instead, ask your doctor.
Please do not take any medicine by searching it on the internet or asking your relative to consult your doctor.
Don't overeat with the misconception that you are eating for two.
High-Risk pregnancy tests
There may be some high-risk pregnancy test performed by your doctor like:
Amniocentesis is a test where the doctor collects amniotic fluid as a sample for testing. This test detects defects like Tay-Sachs, spina bifida, and hemophilia.
Chorionic villus sampling, where the doctor collects placenta tissue as a sample to test for diseases like Tay-Sachs, Down syndrome, and hemophilia.
The doctor performs fetal heart failure checkup by testing blood cell samples and fetal anemia. To collect the test sample, the doctor collects some blood from the baby's umbilical cord.
The doctor performs genetic testing to check for disorders like muscular dystrophy or cystic fibrosis.
Ultrasound test helps a lot during a high-risk pregnancy. Routine ultrasound can detect if the baby is suffering from any defects. Doppler ultrasound can measure the blood flow inside the baby to ensure its health.
Diagnosis in High-Risk pregnancies
Going for diagnosis during and even before pregnancy is a perfect decision. It helps in preventing any complications in pregnancy.
During your pregnancy, you should go for a targeted ultrasound to test any fatal disease.
Prenatal cell-free DNA screening also helps in testing for any chance of chromosome problems. They check the blood sample of both mother and the child.
You can also measure the size of the cervix through ultrasound to avoid the risk of preterm labor.
Ask your doctor for lab tests relating to infection in the urinary tract or infectious diseases like HIV and syphilis.
You can also make a biophysical profile of your baby containing the result of prenatal ultrasound. This ultrasound shows you about the well-being of your baby and monitored fetal heart rate.
Preventing and Testing pregnancy complications
It is necessary to prevent all the complications during pregnancy. So if something does not seem right, you should go for checking and perform the following test:
Check if there is a lower count of healthy red blood cells: this may lead to anemia. Immediately treat the primary cause of anemia for again restoring normal red blood cell count.
Go for testing urinary tract infection for any infection that might grow. If you have a burning sensation while peeing or pressure in the lower belly, your urine smells bad, or nausea, check for UTI.
Have a sudden weight gain or obesity; might lead to complications, so take prevention beforehand. Go to the doctor for a consultation.

 Google Reviews

Faiza Wadia
Dr Jay sir is the God of Endometriosis. There is no one better and more honest than him. Assistants Vismay sir and toral madam and harshita madam are so good.
I am operated here for severe endometriosis of the urine bladder. I am done laparoscopic surgery here under guidance of Jay sir. My recovery is excellent and I am heading back home in a day itself.
For people who have endometriosis, this is the person to go to.

Umesh
My wife was suffering from scar endometriosis for a period more than 1.5 years. We visited lot many doctors who gave us different opinions at different times.
We came to know about Dr. Jay from YouTube videos. He gave us best advice. In Sept 21, my wife got operated at his hospital and relieved of all the pain. Lot many thanks to you sir.

Advazeem Sk
AS EVERYONE says He is the KING of Endometriosis. He is the best surgeon ever. We came from Jalgaon to get surgery done.
He is a big man, extremely busy and superstar. He is very down to earth person. He also gives us concession in surgery. I am extremely happy to my doctor for sending me to Jay sir.

B S KHAN
One of the best endometriosis doctor for doing surgery. We have come to Mumbai from Jalgaon for this surgery. Very fantastic hospital. Very famous dr jay Mehta and very kind with heart.
All blood tests are done in hospital only so no running around to laboratory again and again. There are many good food joints around for out of Mumbai patients to eat good food. Thank you staff for kind guidance.

Nawab Saab
I was suffering from severe endometriosis since years. We have had previous 3 surgeries. The pain was excruciating.
Finally we were told about Dr Jay Mehta by our doctor. My surgery was a big one. It involved bowel resection for endometriosis.
Dr Jay had assured me that I will up and bout in the next day of surgery and here I am. Going home. Pain free. This is one person who is GOD for me. I don't know how best to thank him. Thanks a lot. You are by far the best doctor for Endometriosis Treatment in Mumbai,  I have met in my life.
Thoroughly impressed by your direct and honest approach.

Falguni Kundu
Very happy with doctor and team here. Dr Mehta sir is KING of Endometriosis.
We are travel from Gujarat to Mumbai to become operated. Mehta sir is very nice and gentleman, he give us decision to do surgery in charitable. Thanks for efforts that my wife is now saved.
Thank you to Toral madam and vismay sir also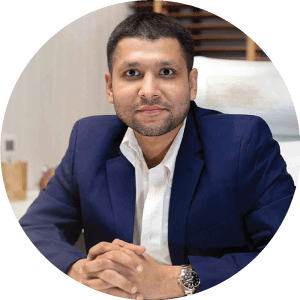 Dr. Jay Mehta
Fertility and IVF Specialist
Dr. Jay Mehta is the Scientific Director of Shree IVF Clinic. He is a well-known Fertility and IVF Specialist and also among few doctors in the country who specializes in Embryology and Andrology.