What is Cesarean Section?
C-section delivery or Cesarean delivery is a surgical procedure that takes place through incisions lower abdomen to deliver a baby. Cesarean delivery is preferred by couples as it allows them to select the date of giving birth to the child. Cesarean delivery does not have any major risks associated with it. One can experience the time of giving birth to a child with this procedure, without even having any pain. Both the parents must know all the pros and cons of the procedure before opting for one.
Why a cesarean delivery is done? (scheduled/unplanned)
There are many women who request C-sections with their first babies. It helps to avoid labor and also many other possible complications of vaginal birth. This kind of delivery also helps to get many advantages as it is a planned delivery.
C-section or Cesarean delivery is safer for both the baby and the mother. The healthcare experts might suggest a cesarean delivery if:
If the labor is not progressing: One of the reasons for cesarean delivery is a stalled labor. It might occur in case the cervix is unable to open enough despite several hours of strong contractions.
When the baby is in distress: The healthcare experts will be concerned in case there are changes in the heartbeat of a baby. At that time, cesarean delivery is the right option.
When the baby or babies are not in a normal position: At that time, cesarean delivery is the safest and the best way to deliver a baby, if the buttocks or the feet of the baby enter the breech or the birth canal. Sometimes the baby might have the position with shoulder or side fast. That time also doctors perform a C-section delivery.
A woman might sometimes carry multiples: The need for the cesarean pregnancy is when the woman is carrying twins and when the baby who is leading is not in a proper position. This also takes place when a woman has triplets or even more babies.
Sometimes there might be a problem with the placenta: There might be a cover at the placenta previa or opening of the cervix. In that case, doctors recommend a C-section delivery.
Umbilical cord prolapsed: If the umbilical cord slips through the cervix ahead of the baby, doctors opt for a C-section.
When there is a health concern: Cesarean delivery also happens when there is a severe health issue for example brain or a heart condition. In case there is an active genital herpes infection, there is a requirement for C-section delivery.
Mechanical obstruction: There might be an urgent requirement for cesarean delivery when a woman has an issue with large fibroids that obstruct the birth canal or when there is a fracture in the pelvis. It is also when the baby has conditions that can lead to severe hydrocephalus, i.e when the head of the baby is larger than usual.
Sometimes women may have a previous cesarean delivery. In that case, depending on the kind of the uterine incision and many other factors, doctors may recommend attempting VBAC.
Risks and complications of a cesarean delivery
There are many risks and complications that come with a C-section delivery. Some of the risks are:
Babies born of c-section delivery mostly have breathing trouble, which is the transient tachypnea. It is a kind of breathing problem that starts by breathing very fast during the initial days' post-birth.
Sometimes babies might come through accidental nicks in the skin. This can occur during the time of surgery.
Women who undergo c-section delivery might develop a risk of developing many infections of the endometriosis, which is the lining of the uterus.
The large size of the infant
Obesity
Diabetes
How to prepare for a cesarean delivery
If the decision is of cesarean delivery, you must acquire all instructions from your doctor about the delivery. You must know everything to decrease the chances of risks to prevent yourself from complications and experience a successful delivery.
Not only c-section delivery but all other types of delivery involves many checkups. The prenatal appointments will include several blood tests and many other physical examinations. It will help to determine the health of the would-be mother to determine if there is any risk underlying or not.
Your blood type will have a record by your doctor in case there is any need for transfusion of blood during the time of surgery. It is very rare when there is a need for blood transfusion during the time of cesarean delivery. Your doctor always remains prepared for any kind of complications during the delivery.
Even if the plan is not for cesarean delivery, you must always prepare for the unexpected. Always discuss the risks and complications and what are the things you can do for a successful delivery. Be sure that all your questions have the answers.
Cesarean delivery always takes more time to recover when compared to vaginal birth. Always arrange for some extra set of hands as it will be helpful. You will recover very fast with help around you and also your baby will get the proper attention.
The C-Section Procedure: What to Expect
What happens during a C-section?
Depending on the reason for opting for the procedure, it can vary. There are many steps that a c-section involves. But there are many things that happen during the C-section.
You will ask to take shower by using antiseptic soap the night before your delivery and also on the morning of the delivery. You will ask to not shave the pubic hair as it will increase the chances of a surgical site infection if shaving takes place within 24 hours. The surgical staff will remove the pubic hair by using a trimmer before the delivery.
Doctors will clean your abdomen and also fit a catheter. The catheter will be placed into the bladder so that urine can be collected. The doctor will also place IV or intravenous lines in the arm or hand to provide medication or fluid when required.
There are three different types of anesthesia that take place during the delivery of a baby via c-section. Most of the cesarean delivery takes place by using regional anesthesia. It helps to numb the lower part of the body by allowing the mother to remain awake during the delivery procedure.
In case of an emergency, doctors sometimes prefer general anesthesia. It will not let the mother feel, see, or hear anything during the procedure. Some of the common choices of anesthesia are an epidural block or spinal block.
When the patient is numb properly, the medicated doctors will make an incision above the pubic hairline. The incision is usually horizontal across the pelvis but during an emergency, it is often vertical. The uterus gets exposure once the incision is made into the abdomen.
Doctors will cover the area throughout the surgery therefore, the patient will not be able to see the procedure. The baby will then be removed by the doctors from the uterus after the second incision is done.
It will be then cleared by the mouth and the nose and doctors will clamp and cut the umbilical cord. The baby will be given to the staff and they will monitor the breathing pattern of the baby. The uterus will be repaired with the help of dissolving stitches and doctors will also close the incision of the abdomen with sutures.
What happens after a C-section?
After the cesarean delivery, you will stay in the hospital for a few days. The doctors will discuss all the pain relief options with you. As soon as the anesthesia begins to fade, you have to drink lots of water and walk around as well.
The prevention of deep vein thrombosis and constipation takes place. The doctors will also monitor the area of the incision so that there are no signs of infection. Doctors will also remove the bladder catheter soon after the delivery.
At this time, you will be able to start breastfeeding your child. You may also take suggestions from the nurse to know more about how to breast-feed a child and position yourself in such a way so that it is not uncomfortable for you or your child. You have to be in medications to reduce post-surgical pain.
Before the doctor asks you to go home take suggestions from the doctors about any preventive care that you need to take. Make sure all your questions have the answer so that you do not face any problem at home.
Recovery and Care after a cesarean delivery
Giving birth to a child is the most exciting time. You get to meet your baby after a long wait of nine months. All these nine months the baby was growing inside you. Having a baby inside you can also cause some problems in your body.
When you are having a cesarean delivery it needs more attention. You will require more time for recovery if compared to vaginal delivery. Here are some suggestions for you that may help you to speed up the recovery process:
Cesarean delivery is one of the major surgeries therefore your body will also need more time to recover. You will stay at the hospital for four to five days or even longer if there are any complications. A doctor will ask for six weeks from you to heal your body completely.
This is much easier to say than doing in real life. Almost everyone finds it very hard to crawl into bed for hours when your newborn baby is demanding attention from you. You need to take rest whenever your baby takes a nap.
Even a little bit of rest for a few hours throughout the day can also help. As for a helping hand to change diapers and do all household works for your baby so that you can take some rest.
Take extra care of your body while getting around. Try to avoid going down and up when climbing the stairs. Do keep everything in front of your hand so that you do not need to go around very frequently. Try to avoid getting up too often.
Do not lift anything that is heavier than your baby. Ask for help from a friend or domestic help or your spouse. During the time of coughing or sneezing, try to hold your abdomen to prevent the incision site from getting open.
It will take almost eight weeks to get back to the normal schedule. Ask your doctor to know when it is fine to start exercising or go back to work and drive. Try to avoid having sex until you get a green signal from your doctor.
Do not opt for rigorous exercises but always go for gentle walks as much as you can. The movement you make will help your body to prevent and heal from blood clots and constipation. Walking will help your baby to get an introduction to the new world.
Do not forget about your mental health as you take care of your physical health. There will be lots of feelings once you have a baby. Do not ignore your feelings whenever you will feel exhausted, disappointed, or sad. Talk with your friends or close ones about your emotions. Do not hesitate to take help from experts.
Take advice from your doctors on which medicines will be good for you to get rid of pain while you are breastfeeding. Doctors will prescribe medicines depending on the level of uneasiness and discomfort. Sometimes doctors will also advise pain medications such as acetaminophen or ibuprofen. You can also get rid of the pain by using heating pads.
Try to have good nutrition
It is very important for new mothers to rely on good nutrition. This is just as important as having good nutrition as it was when the baby was growing inside you. You are the primary source of nutrition if you are breastfeeding your child.
Eating good nutritious food will keep you stronger and keep your baby healthy as well. According to research if you eat a variety of vegetables it will impart different flavors in your breast milk. These flavors will help your child's consumption and enjoyment of those foods during their growing years.
Do not forget to eat plenty of water and other fluids. Your breastmilk supply will get boost up by consuming extra fluids and it can prevent constipation as well.
You have to avoid rigorous exercise for the first few days of recovery. Therefore, you can opt for walking as an alternative to exercises. It can help you to maintain good mental health and stay fit as well. The chances of blood vessel or heart issues or blood clots will reduce by taking walks.
Keep a record for signs of infection
You have to keep records of the body temperature every 24 hours so that there is the monitoring of infections. You must also be careful about any kind of other signs such as intense pain, swelling, chills, and red streaks.
Benefits of cesarean delivery
There are many benefits of c-section delivery. But there are many chances of reducing the risk with c-section delivery. Some of them are:
During and after giving birth the risk of pain reduces
Lower chances of heavy bleeding post-birth
Reduced chances of injury
No loss of bladder control
Low chances of pelvic organ prolapse.
Cesarean delivery cost
The average cost of a c-section delivery cost in India ranges from Rs. 50,000 to Rs. 2,00,000. This cost is without any medication and pre and post-surgery tests.

 Google Reviews

Faiza Wadia
Dr Jay sir is the God of Endometriosis. There is no one better and more honest than him. Assistants Vismay sir and toral madam and harshita madam are so good.
I am operated here for severe endometriosis of the urine bladder. I am done laparoscopic surgery here under guidance of Jay sir. My recovery is excellent and I am heading back home in a day itself.
For people who have endometriosis, this is the person to go to.

Umesh
My wife was suffering from scar endometriosis for a period more than 1.5 years. We visited lot many doctors who gave us different opinions at different times.
We came to know about Dr. Jay from YouTube videos. He gave us best advice. In Sept 21, my wife got operated at his hospital and relieved of all the pain. Lot many thanks to you sir.

Basavaraj N
The best doctor for endometriosis in India and Mumbai.
We came from Karnataka to Mumbai to do surgery. He is such a famous surgeon and a doctor. Extremely impressed with your humble behavior.
My wife had bowel endometriosis. There is one thing that I wish to mention. He is a very straightforward doctor. He answers everything, but he doesn't take over the smart nonsense of the patient.
Don't go by his simplicity, he will make such strong punchlines that your ego will come down to earth. He asked me to be a MAN. I will never forget that motivation

B S KHAN
One of the best endometriosis doctor for doing surgery. We have come to Mumbai from Jalgaon for this surgery. Very fantastic hospital. Very famous dr jay Mehta and very kind with heart.
All blood tests are done in hospital only so no running around to laboratory again and again. There are many good food joints around for out of Mumbai patients to eat good food. Thank you staff for kind guidance.

Nawab Saab
I was suffering from severe endometriosis since years. We have had previous 3 surgeries. The pain was excruciating.
Finally we were told about Dr Jay Mehta by our doctor. My surgery was a big one. It involved bowel resection for endometriosis.
Dr Jay had assured me that I will up and bout in the next day of surgery and here I am. Going home. Pain free. This is one person who is GOD for me. I don't know how best to thank him. Thanks a lot. You are by far the best doctor for Endometriosis Treatment in Mumbai,  I have met in my life.
Thoroughly impressed by your direct and honest approach.

Nausheen Khan
The best doctor in India for Endometriosis. I am actually honored to be treated by Jay sir.
I had come to him 3 years ago when he told me about surgery, but I got misguided by many other doctors and I took a leupride of 11 injections. Unhappy with the result and pain, I come back to Jay Mehta sir.
He scolded me but then operated on me too. I thank you him, for being so an honest and genuine doctor.
The KING of Endometriosis as he is rightly called, considers my finances and operates me in charity surgery. My family bless you always
There are numerous medical conditions that often remain outside the general public's awareness. One such condition is the absent vagina
Absent vagina, also known as Mayer-Rokitansky-Küster-Hauser (MRKH) syndrome, presents unique challenges to those it affects.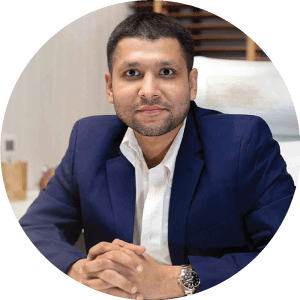 Dr. Jay Mehta
Fertility and IVF Specialist
Dr. Jay Mehta is the Scientific Director of Shree IVF Clinic. He is a well-known Fertility and IVF Specialist and also among few doctors in the country who specializes in Embryology and Andrology.