What is Ovulation Induction Treatment?
Ovulation induction is mainly a to-the-point treatment where hormonal pills are used for resuming ovulation. Sometimes having severe hormonal imbalance can lead to irregular periods. In the worst-case scenario, it can also lead to cysts in the ovary. Drugs used for ovulation induction treatment and women who cannot ovulate on their own take help of these. Moreover, ovulation induction helps in producing healthy eggs so that your ovary produces a healthy egg every month.
Ovulation induction indications
If you are suffering from anovulation, opting for ovulation induction is the best option. At times, disorders like PCOS, poor nutrition, or too much workout can cause anovulation. After you start taking the medications, you will soon start facing some symptoms. For example, bloating, nausea, hot flashes, tenderness in the pelvic region, blurred vision, etc. If you feel uncomfortable with the symptoms, then it is best if you immediately consult doctors.
Who is ovulation induction suitable/recommended for?
Ovulation induction treatment is easy and safe to opt for by many women. For example, women suffering from infrequent ovulation or the ones who do not ovulate at all can opt for this treatment procedure. Doctors provide various fertility drugs based on the symptoms as well as the issues. Similarly, women having unexplained infertility issues can also opt for ovulation induction treatment. Fertility drugs are essential for those suffering from infertility. The reason behind this is it helps in increasing ovulation so that it becomes easy to conceive. Patients, undergoing IVF treatments also take ovulation induction medicine to increase the egg production rate.
Medications Used for Ovulation Induction
Various medications are used for ovulation induction treatment. The medications are mostly hormonal drugs that help in increasing the egg production rate. Clomiphene Citrate commonly known as Serophene or Clomid is the common hormonal medication. It is an oral medication and doctors recommend it to consume for five days. Doctors recommend fifty to a hundred mg per day; however, if the ovulation fails to occur, they increase the dosage. Clomiphene Citrate is an FDA approved medicine and it tricks your body to think that you do not have enough estrogen. Although it is quite an effective medicine, success depends on various factors like age, other fertility issues, or semen parameters.
Next, is letrozole, which is popularly known as Femara, which is yet another oral medicine useful for ovulation induction. Few studies showed that women who take Clomid and have ovulation induction could take Letrozole. Similarly, if you face any issues or side effects with Clomid, then you can switch to Letrozole. Initially, doctors recommend beginning the dosage with 2.5mg. However, if the ovulation fails, your doctor will increase the dosage.
Gonadotrophins are also useful when it comes to treating ovulation induction. But, it is different from that of Clomid or Letrozole. Gonadotropins are injectable drugs and the dosage continues for about five to twelve. Almost every patient is becoming comfortable with the concept of injecting Gonadotropins. The medication helps in allowing the follicles to mature; however, the dosage varies so that you can conceive. Besides, the threat of the risk of multiple births reduces as well. Doctors opt for the HCG injections that mimic the mid-cycle of LH surge.
The ovulation induction process
The process of ovulation induction is quite easy since the entire process of the treatment is quite straightforward. Doctors prescribe oral medications or hormonal injections for stimulating the ovulation procedure. Once your menstrual cycle begins, you can take the medications. However, the doctor will keep monitoring your body through ultrasound. It is important to understand that the entire process of ovulation induction is quite safe. Besides, doctors consider this treatment as one of the effective methods of treatment for removing fertility issues.
Step by Step Guide – ovulation induction
When opting for the ovulation induction procedure, it will include a few steps that are listed below.
Stimulation– After taking the medicines, the drugs support the growth of the follicles carrying the eggs. Medicines normally replace the FSH so that the ovaries can produce high-quality eggs. Doctors keep tracking the follicular development as well as hormone levels through the stimulation cycle.
Control– Soon after beginning the process, doctors recommend taking USG and blood tests so that they can track the medicinal effects. Apart from that, the tests also help in determining the hormonal levels along with the maturation status of the eggs. Doctors call the entire process follicular monitoring.
Egg release– Once the follicles become ready and reach almost sixty to twenty millimeters based on the medications, doctors push HCG injection. Thus, you can get ready for intercourse or intrauterine insemination.
What to expect during Ovulation Induction?
Once the treatment for induction ovulation starts, you might face some symptoms like hot flushes, nausea, pain in the pelvic region, etc. However, once the medicines successfully work, you will be able to have regular periods. If you were planning for pregnancy but failed due to infertility issues, you can easily conceive post-treatment. Alternatively, if you have been taking the IVF treatment, then the ovulation induction treatment will help in producing healthy eggs.
Risks, Symptoms associated with Ovulation Induction
Although the ovulation induction treatment is quite useful and effective, there are some associated risks as well. Almost two million women between the ages of fifteen to forty-four opt for fertility drug treatments. Few iatrogenic complications are there that come with the use of ovulation induction agents. Some of the common complications include preterm delivery and spontaneous abortion. Along with that, some severe complications include heterotopic pregnancy, chances of ovarian cancer as well.
Side effects of ovulation induction
Just like the uncountable benefits that infertile women get out of ovulation induction treatment, there are some side effects too. From abdominal distention to discomfort, bloating sensation, restlessness, and fatigue, you will come across many discomforts. Leaving them untreated can give rise to severe problems. Due to this reason, whenever you feel that the discomforts are increasing, you must immediately consult your doctor.
Benefits of ovulation induction
The only goal behind ovulation induction treatment is to make a woman fertile for conceiving. Even if you are not planning for pregnancy, opting for this treatment procedure will help in lowering the PCOS symptoms. When planning for conceiving, once the treatment completes, you can opt for normal intercourse. Apart from that, you can also opt for intrauterine insemination or other fertility treatments.
Preparing for ovulation induction
The preparation procedure of the treatment is quite simple. Your doctor will ask you to take different tests. Based on the results, they will suggest you taking hormonal medicines so that the effects of estrogen reduce. Thus, your body will be able to produce follicle-stimulating hormones. As a result, you will be able to conceive or have regular cycles. Doctors prescribe medicine like Clomiphene Citrate since it is one of the effective medicines for follicle stimulation.
Ovulation induction success rates
The success rate of ovulation induction depends on various factors like age, disease, diagnosis, etc. However, generally, almost twenty to twenty-five percent of women achieved successful results. Thus, women having PCOS or other infertility issues can get effective results from this treatment.
Ovulation induction Cost
The best part of the ovulation induction treatment is it is quite affordable. Almost everyone can opt for it. Single IUI ranges around three thousand. Hence, if you get the desired results within one cycle, then the overall cost will range around ten thousand. The entire cost will include tests, scans, and even medications.
Testing for pregnancy
If you take the pregnancy test after undergoing the treatment, then you can either opt for the at-home tests. Pregnancy kits are available that are quite handy. Alternatively, you go for a detailed check, HCG hormone in your urine. Once you conceive, your body produces HCG. In case you get a positive result on the first day of your cycle, then it is almost two weeks since your conception.
Chance of pregnancy with ovulation induction
As the ovulation induction treatment is quite effective, you can get pregnant after your treatment completes. However, the result again varies, and if you fail to get pregnant, it is better to consult your doctor.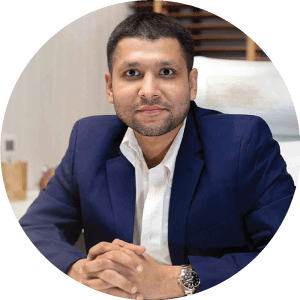 Dr. Jay Mehta
MBBS, DNB – Obstetrics & Gynecology
IVF & Endometriosis Specialist, Laparoscopic Surgeon (Obs & Gyn)
Dr. Jay Mehta is a renowned IVF specialist and fertility preserving surgeon in Mumbai, India. He is the Scientific Director of Shree IVF and Endometriosis Clinic, as well as the director of Uterine Transplant, Advanced Endometriosis and Gynac Cancer at Global Hospitals, Mumbai.
He is a well-known Fertility and IVF Specialist and also among few doctors in the country who specializes in Embryology and Andrology. He operates India's major cities including Mumbai, Pune, Chennai, Hyderabad, Bangalore, Ahmedabad, Agra, Delhi etc.
To book an appointment, call: +91 - 9920914115 or fill out our contact form

 Google Reviews

Faiza Wadia
Dr Jay sir is the God of Endometriosis. There is no one better and more honest than him. Assistants Vismay sir and toral madam and harshita madam are so good.
I am operated here for severe endometriosis of the urine bladder. I am done laparoscopic surgery here under guidance of Jay sir. My recovery is excellent and I am heading back home in a day itself.
For people who have endometriosis, this is the person to go to.

Umesh
My wife was suffering from scar endometriosis for a period more than 1.5 years. We visited lot many doctors who gave us different opinions at different times.
We came to know about Dr. Jay from YouTube videos. He gave us best advice. In Sept 21, my wife got operated at his hospital and relieved of all the pain. Lot many thanks to you sir.

Basavaraj N
The best doctor for endometriosis in India and Mumbai.
We came from Karnataka to Mumbai to do surgery. He is such a famous surgeon and a doctor. Extremely impressed with your humble behavior.
My wife had bowel endometriosis. There is one thing that I wish to mention. He is a very straightforward doctor. He answers everything, but he doesn't take over the smart nonsense of the patient.
Don't go by his simplicity, he will make such strong punchlines that your ego will come down to earth. He asked me to be a MAN. I will never forget that motivation

B S KHAN
One of the best endometriosis doctor for doing surgery. We have come to Mumbai from Jalgaon for this surgery. Very fantastic hospital. Very famous dr jay Mehta and very kind with heart.
All blood tests are done in hospital only so no running around to laboratory again and again. There are many good food joints around for out of Mumbai patients to eat good food. Thank you staff for kind guidance.

Nawab Saab
I was suffering from severe endometriosis since years. We have had previous 3 surgeries. The pain was excruciating.
Finally we were told about Dr Jay Mehta by our doctor. My surgery was a big one. It involved bowel resection for endometriosis.
Dr Jay had assured me that I will up and bout in the next day of surgery and here I am. Going home. Pain free. This is one person who is GOD for me. I don't know how best to thank him. Thanks a lot. You are by far the best doctor for Endometriosis Treatment in Mumbai,  I have met in my life.
Thoroughly impressed by your direct and honest approach.

Nausheen Khan
The best doctor in India for Endometriosis. I am actually honored to be treated by Jay sir.
I had come to him 3 years ago when he told me about surgery, but I got misguided by many other doctors and I took a leupride of 11 injections. Unhappy with the result and pain, I come back to Jay Mehta sir.
He scolded me but then operated on me too. I thank you him, for being so an honest and genuine doctor.
The KING of Endometriosis as he is rightly called, considers my finances and operates me in charity surgery. My family bless you always