What is Delivery/labor?
The birth of a child is the delivery or labor. This is the last phase of pregnancy where the baby or babies come out from the uterus. It passes through the vagina or with the help of Caesarean section. Many of the major health organizations have recommended that as soon as a baby takes birth through vaginal birth or with the help of a C-section, the infant must be placed on the chest of the mother.
This helps the mother as well as the newborn to have skin to skin contact. Let us read in details about delivery to get a clear idea.
Types of delivery for pregnancy
It is a difficult task to bring a baby into the world, but with proper planning and taking proper care the task can be much easier. Vaginal delivery is one of the most common and normal ways of delivery. But couples might also look for other procedures and therapies that would make the task much easier, convenient, and safer for both the child and the mother.
Following are some of the techniques that are preferred by doctors and mothers for an uncomplicated procedure.
Babies are often delivered by the support of the birth canal that is situated at the womb. This type of delivery is known as natural birth or vaginal delivery. Most doctors will suggest this procedure as long as it is feasible.
When a woman is planning for multiple children, doctors will recommend vaginal births. If the incision is done above the area of the anal, the procedure is termed an episiotomy.
Cesarean section deliver (C-section)
In this kind of delivery, in the mother's uterus or belly, an incision is made and then the baby is delivered through the incision. Many women nowadays prefer this procedure. Therefore C-section makes the delivery process much easier and safer for both the baby and the mother.
Assisted Vaginal Delivery
Vaginal delivery is referred to as the most common type of delivery. If required, doctors often use the method of assisted type delivery. Labor is a noncomplex and straightforward process but sometimes it might have the requirement of the assistance of any additional staff.
The assistance is not only limited to delivery only. It varies from emergency procedures associated with delivery to the usage of certain medications.
In the case of water delivery, the mother undergoes all the procedures or some of them associated with childbirth in a tub that is almost similar to that of a hot tub. The baby is delivered when the woman is under the water.
Different positions are preferred by a mother. This procedure is much more relaxing and prevents excessive pain.
This method is a process of natural childbirth and is popular for the controlled technique of breathing that it offers. Different comfort strategies are offered by this technique during the time of delivery or labor.
Relaxation is increased and chances of pain are reduced by the breathing technique it allows. Other techniques are also offered by this method during the preparation of childbirth besides the breathing technique.
This method focuses to prepare a mother to opt for natural childbirth that is trained by her partner. They prepare themselves for the procedure of unassisted vaginal birth without the help of medications.
With the help of family and friends, this method is taught for twelve weeks using workbooks to keep a record.
This is a technique based on philosophy. This process teaches relaxation which is based on breathing techniques, visualizations, and self-hypnosis. It creates a way of relaxation which is much needed by the mother during the situation of fear.
The potential of the woman's faith in her body is promoted by this method. The natural birthing instincts are empowered during the time of labor. It helps to ensure a comfortable calm and serene birth.
The stages of delivery
The labor of every woman is unique in its own way starting from the first pregnancy followed by the next ones. Often the process of delivery or labor takes an hour and in some cases, the emotional and physical stamina of a mother is tested via labor.
One will not know how childbirth and labor will unfold until the same happens. The sequence of the events will help to prepare yourself for the same. There are different stages of labor or delivery. Here are the stages mentioned below:
1. First stage
The onset of delivery is incorporated in the first stage of labor. The dilation of the cervix is done completely. And the first stage is again divided into three sub-stages.
Early labor– This is the least intense and the longest phase of delivery. This phase is also known as the latent phase of delivery. The cervix is thinned and dilated to 3-4 cm during this stage. It usually takes days or weeks but sometimes it may take a few hours too.
During this stage, contraction can vary and normally ranges from moderate to severe, taking place at regular or irregular interludes. Some of the symptoms during this stage experienced by mothers are the discharge of bloody mucus, backache, and cramps.
Most of the women opt to go to the hospital at the end of this stage. But there are also many women who will arrive at the birthing center or hospital when they are continuing the early labor stage.
Active labor– The immediate next phase followed by the first stage of delivery is seen as the cervix is dilated to 7 cm from 3-4 cm. There are stronger contractions and there are symptoms like backache as well.
Transitional labor– This phase has the sharpest increase in contractions and is considered to be the intense phase of delivery. They are stronger at this phase and reappear within minutes apart or at an average time of 60 to 90 seconds. It takes very little time for the cervix to dilate the last 3 cm.
2. Second stage
Delivery– the cervix dilates fully during this stage. Some of the would-be mothers have the will to push immediately or as soon as the cervix is dilated fully. But there are also some cases where the baby is still high in the pelvis.
3. Third stage
The placenta is delivered and it takes place once the baby is born. The placenta will be separated from the uterine wall with the help of mild contractions, and it will move downwards towards the vagina. Episiotomy or process of stitching to mend a surgical cut or tear will be followed after the delivery of the placenta.
4. Fourth stage
Recovery– once the baby is born, the placenta delivers, and then the moment of unimaginable joy, fatigue, and relief will occur for both you and your partner. Most babies need nursing as soon as they are born.
Some babies also wait for a long time. Doctors always strongly recommend breastfeeding the child as soon as they are born. The uterus will contract as soon as the new mother starts nursing right away. It will also decrease the bleeding quantity.
What happens after the delivery?
It is very vital for a mother to get preparation for the changes in the body post-delivery. Here is a list of things that a mother have expectations to experience after the delivery:
In the first week, you will lose weight
Enlargement of breasts
Contraction of uterus
Bruised and swollen vagina
The expectation of vaginal bleeding
Emotional mood
Saggy stomach
Dull hair
Give attention to the pelvic floor
Look after the stitches in case of C-section delivery
Risks involved in a delivery
There are certain risks that have an association with a child's delivery. Doctors work from the very first day to reduce the chances of risks during delivery. Some of the risks are:
Low birth weight
Deficiency in nutrition
High blood pressure
Diabetes
Multiple-birth pregnancies
Signs of delivery for a pregnant woman
In case you experience any of the signs and symptoms, be sure that it is time for delivering a baby:
Lightning or when the baby drops
Urge to urinate increases
Passing of the bloody mucus plug
Dilated cervix
Effacement of the cervix
Back pain
Contractions
A sudden burst of excitement and energy
Diarrhea
Water breaking- which is not the same as urination
Joints are looser
Gaining weight has restriction so as losing weight
Relief of pain in labor
Labor or delivery can be painful so it is better to know the ways that can help you to get relief from the pain. Here is a list of tips that can help you to overcome pain during labor:
Massage
Water therapy
Breathing
Moving around
Relaxation
Epidural
Entonox- oxygen and nitrous oxide mixture
Use of TENS machine
What to expect during a delivery?
A woman has to face many changes during the time of delivery. The muscles that are located at the top end of the uterus press down the bottom of the baby. The head of the baby further presses the cervix that also releases the love hormone known as oxytocin and brings on contraction as well.

 Google Reviews

Faiza Wadia
Dr Jay sir is the God of Endometriosis. There is no one better and more honest than him. Assistants Vismay sir and toral madam and harshita madam are so good.
I am operated here for severe endometriosis of the urine bladder. I am done laparoscopic surgery here under guidance of Jay sir. My recovery is excellent and I am heading back home in a day itself.
For people who have endometriosis, this is the person to go to.

Umesh
My wife was suffering from scar endometriosis for a period more than 1.5 years. We visited lot many doctors who gave us different opinions at different times.
We came to know about Dr. Jay from YouTube videos. He gave us best advice. In Sept 21, my wife got operated at his hospital and relieved of all the pain. Lot many thanks to you sir.

Basavaraj N
The best doctor for endometriosis in India and Mumbai.
We came from Karnataka to Mumbai to do surgery. He is such a famous surgeon and a doctor. Extremely impressed with your humble behavior.
My wife had bowel endometriosis. There is one thing that I wish to mention. He is a very straightforward doctor. He answers everything, but he doesn't take over the smart nonsense of the patient.
Don't go by his simplicity, he will make such strong punchlines that your ego will come down to earth. He asked me to be a MAN. I will never forget that motivation

B S KHAN
One of the best endometriosis doctor for doing surgery. We have come to Mumbai from Jalgaon for this surgery. Very fantastic hospital. Very famous dr jay Mehta and very kind with heart.
All blood tests are done in hospital only so no running around to laboratory again and again. There are many good food joints around for out of Mumbai patients to eat good food. Thank you staff for kind guidance.

Nawab Saab
I was suffering from severe endometriosis since years. We have had previous 3 surgeries. The pain was excruciating.
Finally we were told about Dr Jay Mehta by our doctor. My surgery was a big one. It involved bowel resection for endometriosis.
Dr Jay had assured me that I will up and bout in the next day of surgery and here I am. Going home. Pain free. This is one person who is GOD for me. I don't know how best to thank him. Thanks a lot. You are by far the best doctor for Endometriosis Treatment in Mumbai,  I have met in my life.
Thoroughly impressed by your direct and honest approach.

Nausheen Khan
The best doctor in India for Endometriosis. I am actually honored to be treated by Jay sir.
I had come to him 3 years ago when he told me about surgery, but I got misguided by many other doctors and I took a leupride of 11 injections. Unhappy with the result and pain, I come back to Jay Mehta sir.
He scolded me but then operated on me too. I thank you him, for being so an honest and genuine doctor.
The KING of Endometriosis as he is rightly called, considers my finances and operates me in charity surgery. My family bless you always
There are two ways to deliver a baby: through normal delivery or by c-section. Both have their own risks and benefits, so it's important for pregnant mothers to understand the difference between the two procedures.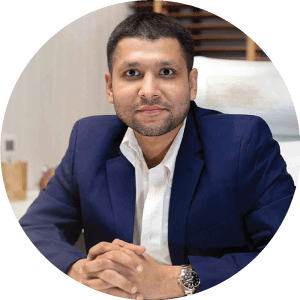 Dr. Jay Mehta
Fertility and IVF Specialist
Dr. Jay Mehta is the Scientific Director of Shree IVF Clinic. He is a well-known Fertility and IVF Specialist and also among few doctors in the country who specializes in Embryology and Andrology.