What is Ovarian Cancer?
Cancer that happens due to the abnormal growth of genes that controls cell growth mutation is known as ovarian cancer. The female reproductive system contains two ovaries, one on each side of the uterus. Each ovary is about the size of an almond, produces eggs (ova), and also the sex hormones named estrogen and progesterone. These hormones play a vital role in female traits, such as breast development, body shape, and body hair.
Symptoms for ovarian cancer
The most common symptoms women are likely to have if the disease has spread, but is at an early-stage ovarian cancer include:
Bloating
Pelvic or abdominal (belly) pain
Trouble eating or feeling full too soon
Urinary symptoms such as feeling pressure or pain in the bladder and frequent urination.
These symptoms are also commonly caused due to non-cancerous diseases or cancers due to other organs. When the mentioned symptoms are caused due to ovarian cancer, they tend to continue for a long time and change from normal − for instance, they occur more frequently or are more intense. These symptoms caused due to other conditions, and most of them occur in women who do not have ovarian cancer. Yet, if you have these symptoms more than 12 times a month, consult your doctor to find the problem and treatment, if necessary.
Some other symptoms of ovarian cancer include:
Fatigue (extreme tiredness)
Constipation
Upset stomach
Abdominal (belly) swelling with weight loss
Back pain
Pain during sexual intimacy
Changes in a woman's menstrual, such as heavy or irregular bleeding
Causes of ovarian cancer
Some percentage of ovarian cancer is caused due to gene mutations that you inherit from your parents. The genes known to increase the risk of ovarian cancer are called BRCA 1 and BRCA 2.
Recently, it is found that the cause of ovarian cancer is that it begins in cells at the back end of the fallopian tubes and not necessarily in the ovary itself. Another theory states that male hormones (androgens) can cause ovarian cancer.
Types of ovarian cancer
The ovaries have three main types of cells, hence, a tumor can develop in any of them. The three types are:
Epithelial cells, which cover the surface of the ovary
Germ cells, which make eggs (ova)
Stromal cells, which hold the structure of the ovary together and make the hormones estrogen and progesterone.
Epithelial Tumors
In most cases of ovarian cancer, a tumor starts in the layer of tissue that covers the ovaries. It is common in women who have undergone menopause.
In case the doctor finds an epithelial tumor it does not mean you have cancer. Most epithelial tumors turn out as non-cancer. These benign epithelial tumors include serous adenomas, mucinous adenomas, and Brenner tumors.
If the epithelial tumor is cancer, it is called a carcinoma. It is further broken down into different subtypes based on the observation made under a microscope. The four subtypes of carcinoma are:
Serous (the most common subtype)
Mucinous
Endometrioid
Clear Cell
If the tumor cells do not match any of these subtypes, then the carcinoma is undifferentiated means they tend to grow faster and spread rapidly than the other four subtypes of a tumor.
In some cases, an epithelial tumor is not clearly visible to state it as cancer. It is called a low malignant potential (LMP) tumor or borderline epithelial ovarian cancer. This is less life-threatening than other epithelial cancer because it does not grow faster and spread the same way.
Germ Cell Tumors
Women in their 20s are commonly affected by these tumors. Anyhow, women of any age can get them. Most tumors that begin in germ cells are benign.
There are few subtypes of germ cell carcinomas, and tumors can also be a combination of more than one subtype. The four main subtypes include:
Teratoma appears as the three layers of a developing embryo when examined under a microscope. The benign version is called a mature teratoma. Immature teratoma is malignant, or cancerous. This type of tumor is very rare and is usually found in girls younger than 18 years of age.
Dysgerminoma is the most common type of germ cell cancer, though it is still very rare. This type of cancer does not grow faster or spread rapidly. Most women who get this cancer are in their teenage or 20s.
Endodermal sinus tumor, also known as yolk sac tumor is found in children below the age of 1 to 2 but can occur throughout life.
Choriocarcinoma grows and spreads rapidly, occurs in a woman's womb. They are very rare.
Ovarian Stromal Tumors
These types of tumors are diagnosed earlier than others. The most common subtypes are Granulosa-theca tumors and Sertoli-Leydig cell tumors. Both are rare. Another subtype, called granulosa cell tumor (GCT) is also rare.
Ovarian cancer risk factors
Following are the ovarian cancer risk factors:
Age – The older you get, the higher is the risk to develop ovarian cancer. Most ovarian cancers begin after menopause.
Overweight or Obesity – Studies have found the connection between overweight and ovarian cancer, although not necessarily yet most life-threatening types.
Pregnancy – Giving birth after age 35 or never carrying a child can raise the risk of ovarian cancer.
Fertility Treatment – Some researches show a link between IVF (in vitro fertilization) treatment and borderline ovarian tumors, though there have been contrary attestation.
Hormone Therapy – This involves having hormone therapy after menopause, especially only estrogen (without progesterone) for many years.
Family History – Having a family history of ovarian, breast, or colorectal cancer can increase the risk.
Having Had Breast Cancer – The inborn mutations raise cancer risk for both breast and ovarian cancers.
Smoking – This usually does not raise overall ovarian cancer risk yet is connected to an increase in an uncommon type of epithelial ovarian cancer tumor called a mucinous carcinoma.
Complications of ovarian cancer
The treatment adapted to cure this disease sometimes ends up destroying healthy cells including white blood cells. White blood cells protect the body from bacteria and germs. Hence, the risk for infection increases when there is a lower white blood cell count.
Advanced ovarian cancer treatments can damage the platelets that help to stop bleeding. With fewer platelets, one can experience bleeding longer than usual and develop larger and continual bruises.
Loss of Fertility and Menopause
In some cases, women need to remove portions of their reproductive system to treat cancer. If the surgeon removes both the ovaries and/or your uterus, you will be unable to become pregnant. Also, if the ovaries are removed, you will need to undergo menopause (if you have not previously gone through it).
Some chemotherapy drugs, result to cause nerve damage or neuropathy. While the problem worsens, you can experience numbness, tingling, and pain in your extremities.
Chemotherapy drugs can also damage the nerves that lead to the ear. This can affect your hearing or cause ototoxicity.
Those who are undergoing ovarian cancer treatment can also experience complications such as fatigue, nausea, vomiting, hair loss, loss of appetite, mouth sores, rashes on the hands and feet, bone thinning, and skin changes (peeling and blistering).
Tests to diagnose ovarian cancer
Pelvic ultrasound: An ultrasound uses sound waves to generate a picture of the internal organs. This is done on top of your skin (abdomen) or internally, using a wand. An internal ultrasound is called a transvaginal ultrasound which is painless and no preparation on the part is needed. The doctor examines the ovaries during the test to check the changes such as enlargement or any growths.
Other imaging tests that help to diagnose ovarian cancer include:
MRI (magnetic resonance imaging).
CT scan (computed tomography).
PET scan (positron emission tomography).
Chest X-ray
Blood tests: Blood tests are done to examine a substance called CA-125. High levels of this substance in the blood is indicated as a sign of cancer. In many cases, CA-125 levels are normal, even if cancer is present, whereas, higher in many conditions that are not cancer. As a result, blood tests are done with other tests to diagnose ovarian cancer.
Surgical evaluation: Ovarian cancer can be diagnosed during surgery. Ovarian cancer is also treated with both surgery and chemotherapy.
Laparoscopy: This is a type of surgery where a thin camera (laparoscope) is put through a small cut made in the abdomen. Using the scope in addition to ports to hold instruments, the doctor evaluates cancer, perform staging biopsies and, in some conditions, remove ovarian tumors.
Stages of ovarian cancer
Stage 1
In this stage, cancer is only in the ovaries.
Stage 1A. Cancer is limited inside one ovary only.
Stage 1B. Cancer is limited inside one ovary only.
Stage 1C. Cancer is present in both ovaries. Besides, one of the following has happened
Stage 1C- 1. During surgery, cancer cells have leaked into your belly or pelvic area.
Stage 1C- 2. Cancer of one of the ovaries or a fluid-filled tumor has burst and cancer cells have spilled into the belly before surgery.
Stage 1C- 3.Cancer cells are found in the fluid from the abdomen or pelvis.
Stage 2
In this stage, cancer has reached the organs close to the ovaries. It has not spread to your lymph nodes or organs in distant parts of your body.
Stage 2A. Cancer has spread in your uterus, fallopian tubes, or both.
Stage 2B. Cancer has spread to organs in the pelvis such as the bladder, colon, or rectum.
Stage 3
In this stage, cancer has spread to nearby organs such as the uterus and bladder. Cancer has also spread in the stomach lining, the lymph nodes behind the belly, or both.
1. (A) Cancer is in the nearby lymph nodes and tends to grow in nearby organs.
Cancer in the lymph nodes is less than 10 mm.
Cancer in the lymph nodes is larger than 10 mm.
1. (B) Tiny cancer deposits are in the stomach lining, and can only be seen with a microscope. Cancer can also be in nearby lymph nodes.
2. Cancer is detected in the belly during surgery, but they are less than 2 cm. They can also be outside your liver and spleen and in the lymph nodes.
3. Cancer growth is larger than 2 cm.
Stage 4
This is the most advanced stage which states that cancer has spread to some distant organs.
1.Cancer cells are in the fluid around the lungs but has not spread to any other areas outside your abdomen or pelvis.
2.Cancer is detected inside lymph nodes, as well as in the tissues and organs. This may include your skin, lungs, or brain.
Treatment options by stage
For stage 1, the primary treatment is surgery to remove the tumor. Sometimes, the doctor suggests removing the fallopian tubes or nearby lymph nodes.
For stage 2, treatment includes hysterectomy and bilateral salpingo-oophorectomy. The surgeon will try to remove as much as a tumor as possible. After surgery, chemo is recommended for at least 6 cycles.
For stage 3, treatment is surgery and chemotherapy.
For stage 4, treatment includes chemotherapy and surgery.
Ovarian cancer prevention
There is no known method to prevent ovarian cancer, but the following things can lower the risk of getting ovarian cancer.
Using birth control pills for five or more years.
Had a tubal ligation (getting the tubes tied), ovaries removed, and a hysterectomy (a surgery in which the uterus, and sometimes the cervix, is removed).
Having given birth.
Breastfeeding for a year or more can modestly reduce the risk of ovarian cancer.
Ovarian cancer during pregnancy
Most ovarian tumors found during pregnancy are not malignant, and the cancerous ones are normally in earlier stages. This means that the baby's life is not threatened. In addition, many women can preserve their fertility through moderate surgery where only the one affected ovary and fallopian tube is removed. Many a time, fertility gets managed if the cancer is diagnosed during an early stage (stages 1 and 2). If the ovarian cancer is diagnosed before metastasis, it is possible to carry out a unilateral salpingo-oophorectomy, leaving the ovary and fallopian tube on the other side to conserve fertility.
Survival rates for ovarian cancer
The 5-year survival rate for all types of ovarian cancer is 45%. People diagnosed before age 65 have a higher survival rate. The ones who are diagnosed with early-stage ovarian cancer, specifically, stage 1 ovarian cancer, have a 5-year survival rate of 92%.
Ovarian cancer treatment costs
Usually, ovarian cancer treatment is covered under health insurance, however, some plans may not cover some medications or treatments. For patients without health insurance, the cost of ovarian cancer treatment ranges from $20,000 or more for surgery to $200,000 or more for treatment including surgery and chemotherapy for advanced-stage cancer.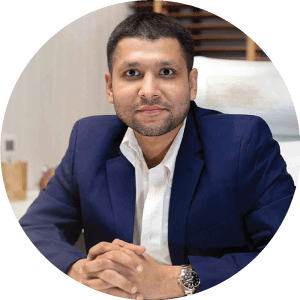 Dr. Jay Mehta
MBBS, DNB – Obstetrics & Gynecology
IVF & Endometriosis Specialist, Laparoscopic Surgeon (Obs & Gyn)
Dr. Jay Mehta is a renowned IVF specialist and fertility preserving surgeon in Mumbai, India. He is the Scientific Director of Shree IVF and Endometriosis Clinic, as well as the director of Uterine Transplant, Advanced Endometriosis and Gynac Cancer at Global Hospitals, Mumbai.
He is a well-known Fertility and IVF Specialist and also among few doctors in the country who specializes in Embryology and Andrology. He operates India's major cities including Mumbai, Pune, Chennai, Hyderabad, Bangalore, Ahmedabad, Agra, Delhi etc.
To book an appointment, call: +91 - 9920914115 or fill out our contact form

 Google Reviews

Faiza Wadia
Dr Jay sir is the God of Endometriosis. There is no one better and more honest than him. Assistants Vismay sir and toral madam and harshita madam are so good.
I am operated here for severe endometriosis of the urine bladder. I am done laparoscopic surgery here under guidance of Jay sir. My recovery is excellent and I am heading back home in a day itself.
For people who have endometriosis, this is the person to go to.

Umesh
My wife was suffering from scar endometriosis for a period more than 1.5 years. We visited lot many doctors who gave us different opinions at different times.
We came to know about Dr. Jay from YouTube videos. He gave us best advice. In Sept 21, my wife got operated at his hospital and relieved of all the pain. Lot many thanks to you sir.

Basavaraj N
The best doctor for endometriosis in India and Mumbai.
We came from Karnataka to Mumbai to do surgery. He is such a famous surgeon and a doctor. Extremely impressed with your humble behavior.
My wife had bowel endometriosis. There is one thing that I wish to mention. He is a very straightforward doctor. He answers everything, but he doesn't take over the smart nonsense of the patient.
Don't go by his simplicity, he will make such strong punchlines that your ego will come down to earth. He asked me to be a MAN. I will never forget that motivation

B S KHAN
One of the best endometriosis doctor for doing surgery. We have come to Mumbai from Jalgaon for this surgery. Very fantastic hospital. Very famous dr jay Mehta and very kind with heart.
All blood tests are done in hospital only so no running around to laboratory again and again. There are many good food joints around for out of Mumbai patients to eat good food. Thank you staff for kind guidance.

Nawab Saab
I was suffering from severe endometriosis since years. We have had previous 3 surgeries. The pain was excruciating.
Finally we were told about Dr Jay Mehta by our doctor. My surgery was a big one. It involved bowel resection for endometriosis.
Dr Jay had assured me that I will up and bout in the next day of surgery and here I am. Going home. Pain free. This is one person who is GOD for me. I don't know how best to thank him. Thanks a lot. You are by far the best doctor for Endometriosis Treatment in Mumbai,  I have met in my life.
Thoroughly impressed by your direct and honest approach.

Nausheen Khan
The best doctor in India for Endometriosis. I am actually honored to be treated by Jay sir.
I had come to him 3 years ago when he told me about surgery, but I got misguided by many other doctors and I took a leupride of 11 injections. Unhappy with the result and pain, I come back to Jay Mehta sir.
He scolded me but then operated on me too. I thank you him, for being so an honest and genuine doctor.
The KING of Endometriosis as he is rightly called, considers my finances and operates me in charity surgery. My family bless you always
CA Ovary Surgery is the surgical removal of one or both ovaries to treat ovarian cancer, other ovarian tumors, or ovarian cysts.
CA Ovary Surgery is the surgical removal of one or both ovaries to treat ovarian cancer, other ovarian tumors, or ovarian cysts.