What is Pelvic Reconstruction?
Pelvic reconstruction is one of the surgical procedures which helps to restore the integrity and strength of the pelvic floor. This procedure helps to treat a condition when the ligaments and muscles of the pelvic floor are damaged or weak. This happens usually due to childbirth. Doctors perform this by addressing each one of the prolapsing organs, rebuilding the layers for supporting or removing the organ that has fallen. This procedure also treats pelvic organ prolapse, chronic disease, heavy lifting, or surgery.
How is a pelvic reconstruction done?
The procedure of a pelvic reconstruction takes place inside the vagina. An anterior pelvic reconstruction by an incision made along the mucosa (vaginal skin) that is overlying the bladder that is not at the appropriate place. Insertion of the catheter is made into the urethra enabling the vaginal mucosa to open, and the bladder wall to reveal.
There are many ways by which an anterior repair takes place. One of the most common methods is an incision along the front wall of the vagina which starts near the entrance and finishes almost near the top of the vagina. Surgeons use absorbable stitches to repair the weakened layers.
It usually takes 30 – 60 minutes to carry out this surgery. It would take around 1 – 2 hours in total if a vaginal hysterectomy takes place with pelvic reconstruction.
Pelvic reconstruction treatment
There are two kinds of pelvic reconstruction treatment. They are:
1. Non-surgical treatment
A pessary is the first non-surgical treatment often tried. It is inserted into the vagina to give support to the pelvic organs and control urine leakage.
Doctors also advise bringing changes in lifestyle and diet. Some of the tips are:
Ensure A proper amount of fluid intake.
Add more fibrous food to your meals. Add fruits, green vegetables, or salads.
Try to maintain a healthy BMI. Keep your weight under control.
2. Surgical treatment
If the problems are into advanced stages, usually surgical treatments are recommended. There are two kinds of surgeries performed depending upon your medical condition & other clinical parameters.
(i) Obliterative surgery
This surgery closes or narrows the vagina. It helps to provide support to the prolapsed organs. After this procedure is done, there will be no chance of sexual intercourse.
(ii) Reconstructive surgery
The original positions of the organs are restored by reconstructive surgery. This procedure is done through an incision in the vagina. The types of reconstructive surgery include:
Native tissue repair.
Colporrhalphy (used to treat prolapse of the front and back wall of the vagina).
Sacrocolpopexy ( used to treat enterocele or vaginal vault prolapse).
Sacrohysteropexy ( when a woman does not want a hysterectomy but wants to treat uterine prolapse).
Surgery using vaginally placed mesh ( used to treat all types of prolapse).
What to expect after surgery
After the surgery is done expect some discharge and spotting from the vagina for about six weeks. Bleeding reduces over time. In case bleeding increases, you need to call your doctor immediately. Stitches that are dissolving, are represented by yellowish-white and watery vaginal discharge.
Recovery time for pelvic reconstructive surgery
The recovery time for pelvic reconstructive surgery depends upon the circumstances and condition of the patient. Usually, it takes about three weeks after the surgery to return to full activity. The patient should refrain from sexual activity for about three to four weeks after the surgery. It is because if there is a vaginal incision, the patient would have painful intercourse. You are advised to avoid lifting, vigorous exercise, and straining for the first few weeks.
Cost of pelvic reconstruction
The cost of pelvic reconstruction ranges from Rs. 3,50,000 to Rs, 5,55,000.
If you have pelvic organ prolapse symptoms and they are interfering in your daily activities you need immediate treatment. Doctors will suggest non-surgical options first and, if needed surgical options later on.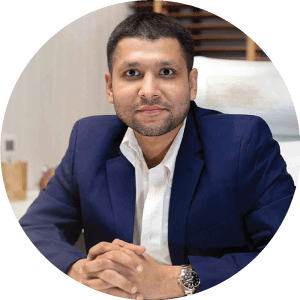 Dr. Jay Mehta
MBBS, DNB – Obstetrics & Gynecology
IVF & Endometriosis Specialist, Laparoscopic Surgeon (Obs & Gyn)
Dr. Jay Mehta is a renowned IVF specialist and fertility preserving surgeon in Mumbai, India. He is the Scientific Director of Shree IVF and Endometriosis Clinic, as well as the director of Uterine Transplant, Advanced Endometriosis and Gynac Cancer at Global Hospitals, Mumbai.
He is a well-known Fertility and IVF Specialist and also among few doctors in the country who specializes in Embryology and Andrology. He operates India's major cities including Mumbai, Pune, Chennai, Hyderabad, Bangalore, Ahmedabad, Agra, Delhi etc.
To book an appointment, call: +91 - 9920914115 or fill out our contact form

 Google Reviews

Faiza Wadia
Dr Jay sir is the God of Endometriosis. There is no one better and more honest than him. Assistants Vismay sir and toral madam and harshita madam are so good.
I am operated here for severe endometriosis of the urine bladder. I am done laparoscopic surgery here under guidance of Jay sir. My recovery is excellent and I am heading back home in a day itself.
For people who have endometriosis, this is the person to go to.

Umesh
My wife was suffering from scar endometriosis for a period more than 1.5 years. We visited lot many doctors who gave us different opinions at different times.
We came to know about Dr. Jay from YouTube videos. He gave us best advice. In Sept 21, my wife got operated at his hospital and relieved of all the pain. Lot many thanks to you sir.

Advazeem Sk
AS EVERYONE says He is the KING of Endometriosis. He is the best surgeon ever. We came from Jalgaon to get surgery done.
He is a big man, extremely busy and superstar. He is very down to earth person. He also gives us concession in surgery. I am extremely happy to my doctor for sending me to Jay sir.

B S KHAN
One of the best endometriosis doctor for doing surgery. We have come to Mumbai from Jalgaon for this surgery. Very fantastic hospital. Very famous dr jay Mehta and very kind with heart.
All blood tests are done in hospital only so no running around to laboratory again and again. There are many good food joints around for out of Mumbai patients to eat good food. Thank you staff for kind guidance.

Nawab Saab
I was suffering from severe endometriosis since years. We have had previous 3 surgeries. The pain was excruciating.
Finally we were told about Dr Jay Mehta by our doctor. My surgery was a big one. It involved bowel resection for endometriosis.
Dr Jay had assured me that I will up and bout in the next day of surgery and here I am. Going home. Pain free. This is one person who is GOD for me. I don't know how best to thank him. Thanks a lot. You are by far the best doctor for Endometriosis Treatment in Mumbai,  I have met in my life.
Thoroughly impressed by your direct and honest approach.

Falguni Kundu
Very happy with doctor and team here. Dr Mehta sir is KING of Endometriosis.
We are travel from Gujarat to Mumbai to become operated. Mehta sir is very nice and gentleman, he give us decision to do surgery in charitable. Thanks for efforts that my wife is now saved.
Thank you to Toral madam and vismay sir also
Pelvic reconstructive surgery is a surgical treatment used to repair the organs and tissues of the pelvic region of the body.