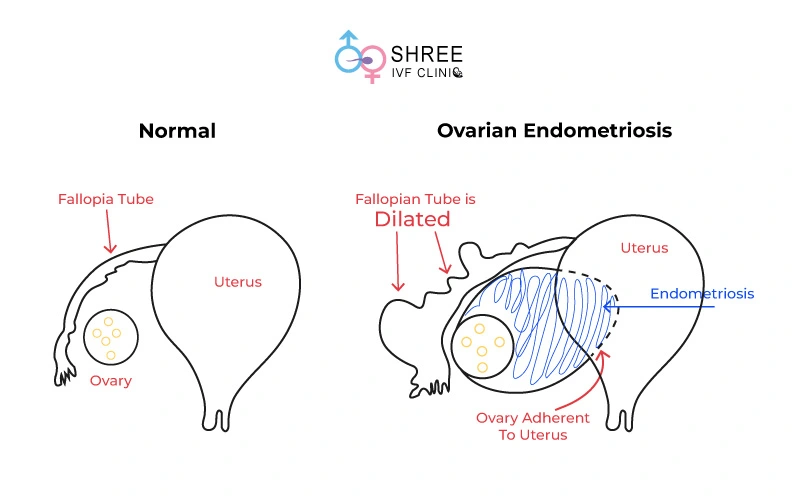 Ovarian endometriosis, often referred to as a "chocolate cyst," is the most common form of endometriosis.
This condition can occur in isolation or be associated with deep endometriosis and endometriosis in various extra pelvic locations.
Ovarian endometriosis is known to play a significant role in causing infertility, affecting approximately 20-40% of patients with endometriosis.
Ovarian endometriosis is also associated with severe pain, regardless of the cyst's size. However, it's not uncommon to see large endometriomas causing no pain.
However, the relationship between ovarian endometriosis and pain is not always straightforward. It's possible for severe pain to accompany even small-sized cysts, while large endometriomas may exist without any pain.
Typically, ovarian endometriosis is bilateral, leading to what's commonly referred to as "kissing ovaries."
These can occur in various sizes and often associate with deep endometriosis. However, isolated and unilateral cases of ovarian endometriosis may also occur.
Symptoms & Diagnosis of Ovarian Endometriosis
Ovarian endometriosis usually presents with chronic pelvic pain, dysmenorrhea, and dyspareunia. Some women may experience irregular menstrual cycles, heavy bleeding, or even infertility.
It's important to note that the severity of symptoms doesn't always correlate with the extent of the disease; some women with extensive endometriosis may remain asymptomatic.
For diagnosis of ovarian endometriosis, it involves a combination of clinical examination, imaging techniques, and, at times, surgical intervention.
Transvaginal ultrasound is typically the first-line imaging modality due to its wide availability and excellent sensitivity.
Magnetic Resonance Imaging (MRI) serves as a more precise tool for detecting deep infiltrating endometriosis. Ultimately, a definitive diagnosis can only be established through laparoscopic surgery and histological examination of the excised tissue.

Dr. Jay Mehta and his colleagues follow a stepwise protocol resulting in 85-90% accuracy in endometriosis mapping, which requires a high level of expertise.
Dr. Jay Mehta is a renowned fertility specialist with extensive experience, expertise in endometriosis treatment & the results he has shown. He is considered one of the top endometriosis doctors in Mumbai.
When Surgery is Needed for Ovarian Endometriosis
For small ovarian endometriomas, especially those smaller than 3cm, medical management in the form of continuous oral contraceptive pills or dienogest is typically recommended.
Patients are kept on a 6-month follow-up to monitor the disease progression.
Surgery is typically indicated for ovarian endometriosis larger than 5 cm, or if the endometrioma is multiloculated or multicystic. Severe pain associated with ovarian endometrioma is another indication for surgical management.
The ideal surgical approach for treating ovarian endometrioma is laparoscopic surgery, considered the gold standard for diagnosing and treating endometriosis.
A well-performed laparoscopic surgery, especially in 3D, gives the doctor an excellent depth perception of the disease in the pelvis, ensuring complete disease clearance and minimal recurrence post-surgery.
One of the most common mistakes patients make is opting for a non-specialized surgeon for their first endometriosis operation. Unfortunately, this can lead to the need for a second surgery performed by an expert.
By this time, fertility may already be compromised due to poor surgical technique in the initial procedure. It's important to choose a surgeon with expertise to ensure the best possible outcome.
It's absolutely crucial to never underestimate the impact of choosing the right doctor for endometriosis treatment. It can make a huge difference.

Dr. Jay Mehta and his team operate more than 500 cases of Endometriosis across India annually. Dr. Jay is a very experienced fertility & endometriosis specialist in Mumbai.
Post Surgery, Recurrence & Fertility
Post-surgical medication is often necessary, especially in cases where patients are young and marriage plans do not exist.
To prevent recurrence, especially in cases of multilocular ovarian endometriomas, long-term oral contraceptive pills may be considered.

About fertility after surgery,
An AMH test is strongly recommended before surgery. Post-excision, the AMH level typically drops for the initial 6 months after surgery but usually recovers after that period.
To avoid permanent ovary damage, it's crucial that an expert performs the surgery, especially when preserving fertility.
Why?
Surgery for ovarian endometrioma can affect future fertility.
Incorrect surgery for ovarian endometrioma can compromise fertility in young girls. Therefore, it's wise that a specialist treats ovarian endometriosis to conserve fertility, especially in young women.

While many women choose to delay fertility and marriage, it's important to counsel them about the temporary reduction in AMH following endometriosis surgery.
Early marriage and not postponing fertility is often advised because pregnancy provides the best medical management for endometriosis.
However, it's vital to note that pregnancy does not cure endometriosis.
Also,
Egg freezing is a valuable option for women undergoing surgery to ensure sufficient frozen egg reservoirs.
Women are typically advised to freeze 12 to 16 eggs post-surgery to maintain their fertility potential.
The procedure usually begins 1-2 months after the surgery, and patients should be thoroughly counseled about this option prior to the surgery.
In conclusion, managing ovarian endometriosis requires meticulous planning and expert intervention, particularly when preserving fertility is a concern.
Decision-making should be individualised, taking into consideration the woman's age, severity of the disease, and desire for future fertility.
Pre-surgical counseling about potential AMH reduction and the benefits of egg freezing is essential.
Despite the challenges, with the right approach, women with ovarian endometriosis can maintain their fertility and improve their quality of life.
For any endometriosis treatment in Mumbai, consider seeking a consultation with Dr. Jay Mehta. He is highly experienced and can provide the necessary expertise to address your specific concerns.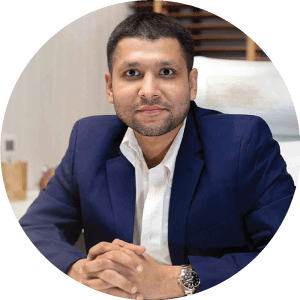 Dr. Jay Mehta
MBBS, DNB – Obstetrics & Gynecology
IVF & Endometriosis Specialist, Laparoscopic Surgeon (Obs & Gyn)
Dr. Jay Mehta is a renowned IVF specialist and fertility preserving surgeon in Mumbai, India. He is the Scientific Director of Shree IVF and Endometriosis Clinic, as well as the director of Uterine Transplant, Advanced Endometriosis and Gynac Cancer at Global Hospitals, Mumbai.
He is a well-known Fertility and IVF Specialist and also among few doctors in the country who specializes in Embryology and Andrology. He operates India's major cities including Mumbai, Pune, Chennai, Hyderabad, Bangalore, Ahmedabad, Agra, Delhi etc.
To book an appointment, call: +91 - 9920914115 or fill out our contact form
To Book An Appointment
For Adenomyosis Treatment in Mumbai
Appointment For Azoospermia Treatment in Mumbai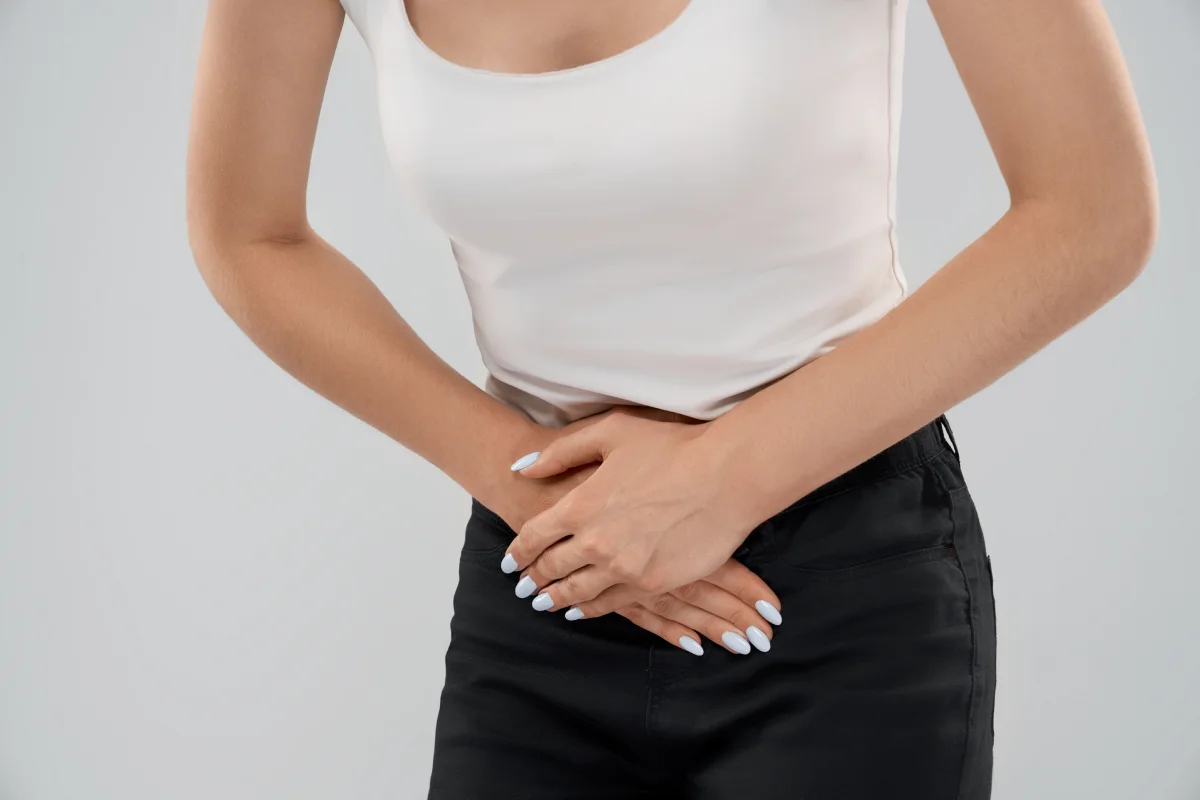 Discover expert insights from Dr. Jay Mehta, Mumbai's leading IVF & fertility specialist, in our comprehensive guide to manage bladder endometriosis.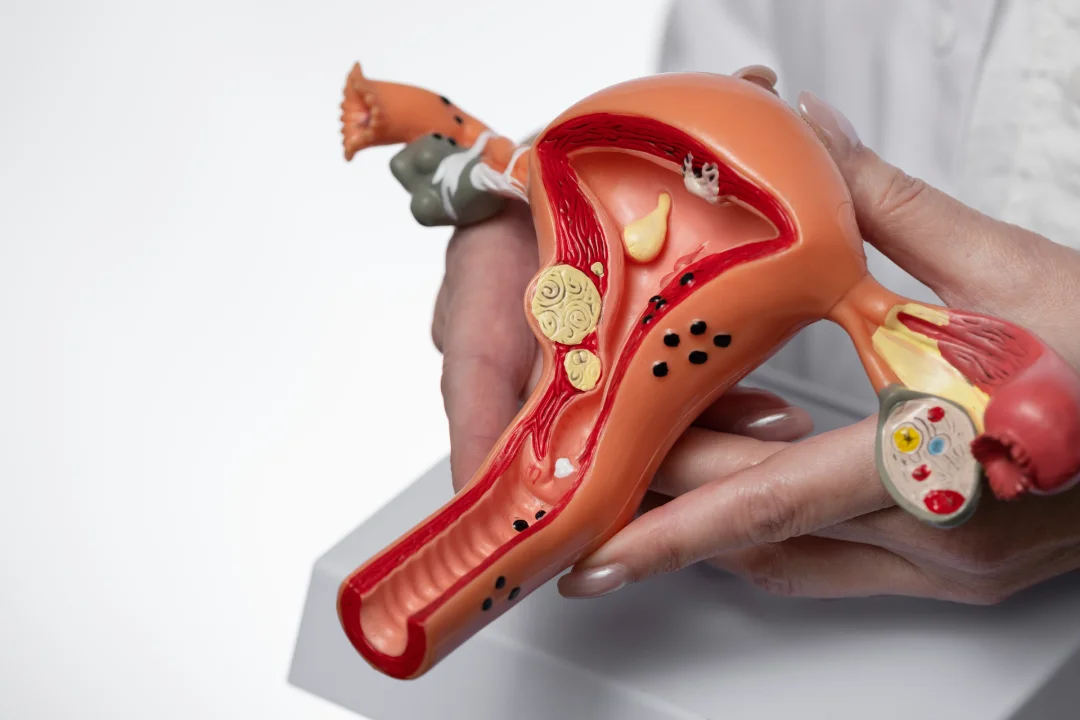 Endometriosis is a medical condition in which the tissue that lines the inside of the uterus (endometrium) grows outside it.
Endometriosis is a challenging condition to deal with. Early diagnosis, a large medical team, and a clear understanding of your diagnosis may all help you better manage your symptoms.
Endometriosis is a painful condition in which tissue that looks like the lining of your uterus grows outside of it. The ovaries, fallopian tubes, and pelvic tissue are all affected by endometriosis.