What is Laparoscopic Myomectomy?
Laparoscopic Myomectomy is a surgical procedure that involves the removal of fibroids without causing any damage to the uterus. It is also known as the Robotic Myomectomy in the medical word. When the fibroid starts to cause too much problem in daily life, the doctors may recommend this surgery. The symptoms which might lead to the surgery are Pelvic pain, Frequent urination, Irregular bleeding, Heavy periods. Laparoscopic Myomectomy helps to remove fibroids with small abdominal incisions. There are several forms of myomectomy techniques depending upon the location and size of the fibroids.
How do you prepare for surgery?
Mentally prepare yourself for a change. The surgery will definitely bring some changes to your body. Talk to your close ones or take help from professionals.
Follow these below-mentioned guidelines before your surgery:-
Avoid wearing jewelry
Try to wear loose-fitting clothes.
Doctors will restrict you to eat, drink ( not even water ), or smoke after midnight before the day of the surgery.
You must not wear nail polish before the surgery.
Wear low-heeled shoes before the day of surgery, as you might feel drowsy because of anesthesia.
What happens during the procedure?
There are various steps a surgeon follows during the laparoscopic myomectomy procedure. Your surgeon will make four small incisions of ½ inch long in your lower abdomen while you are under general anesthesia. The surgeon will be able to see inside your abdomen. It happens when your belly is full of carbon dioxide.
A laparoscope, i.e., a thin tube of light, along with a camera on one end, will be placed in one of the incisions. From the other incisions, small instruments will be placed. In the case of robotic surgery, your surgeon will use a robotic arm to control the instruments.
If your fibroids are small in size your surgeon may prefer to cut those fibroids into small pieces, and in case they are too large, a larger incision will be made in your abdomen to conduct an abdominal myomectomy. At the end of the surgery, all the instruments will be removed, the carbon dioxide gas will be released, and the incisions will be closed.
Types of myomectomy techniques
There are several forms of myomectomy techniques depending upon the location and size of the fibroids. Myomectomy procedures are done under anesthesia and in the operating room.
In the case of hysteroscopic myomectomy, surgeons use a narrow telescope to visualize the uterine cavity. The telescope is inserted into the vagina and then passed through the cervix enabling the surgeons to see the uterine cavity. This technique is used to remove small fibroids.
Laparoscopically-assisted myomectomy
This technique is used to remove the fibroids that extend into the uterine wall or the ones that are exposed outside the uterine cavity. A laparoscope is inserted into the abdomen along with other instruments.
Robotic-assisted laparoscopic myomectomy
This process is similar to laparoscopic myomectomy. The only additional point to know about this procedure is it uses robotics.
Open abdominal myomectomy
In this procedure, surgeons get direct access to the uterus through a vertical incision into the abdomen. The incision made in this procedure is the largest incision made as compared to other techniques. It also needs more time to heal. When fibroids are too large, surgeons prefer this procedure.
Symptoms that indicate the need for laparoscopic myomectomy
Below mentioned are the symptoms that might warrant a laparoscopic myomectomy. Before the actual surgery, the doctor will conduct several tests.
Constipation
Unusually heavy period
Pelvic pain
Difficulty while urinating
Frequent urination
Duration of Menstrual period longer than one week
Pain in legs and lower back
What are the complications and risk factors associated with laparoscopic myomectomy?
The procedure of laparoscopy is relatively safe, but it has certain risks too. These are –
Complications in pregnancy
Bleeding
Fertility issues
Organs in the abdomen are damaged
Urinary or bowel problems
There are two types of complications associated with laparoscopic myomectomy – intraoperative and postoperative.
Some of the intraoperative complications are:-
Enucleation
Hemostasis
Morcellation injury
Some of the post-operative complications are:-
Recovery tips for the patient
You may feel some pain and also have spotting after the surgery for a few weeks. For this, the doctor will prescribe some medications. Depending upon the kind of surgery performed, healing time can be estimated.
For hysteroscopic myomectomy, you will need two to three days of healing time.
In the case of abdominal myomectomy, the healing time is four to six weeks.
For laparoscopic myomectomy, the healing time will be two to four weeks.
You need to avoid exercising for too long and strenuously. Lifting of heavy goods and walking very fast must also be avoided. You must seek consultation before engaging in sexual activities. If you want to get pregnant, you must first have a detailed conversation with the healthcare professional.
What to expect?
Usually, you will need 6 – 8 weeks to recover after the surgery. You will feel extremely tired during this time. One needs to take rest as much as possible. You must also avoid lifting heavy goods.
After this surgery, you will no longer experience the menstrual cycle or be able to conceive. In any case, your ovaries are removed during the time of surgery. As a result, you will begin menopause immediately if you had not reached it. You might face some symptoms such as hot flashes, vaginal dryness, and night sweats.
Women also suffer due to fatigue after surgery. It may last for 10 weeks. But, sometimes, it can stretch until six months after the surgery.
Costs of laparoscopic myomectomy
One of the modern approaches to surgical treatment is laparoscopic myomectomy. Minimal invasive techniques are used in this surgery. The cost of this surgery varies a lot. It ranges from INR 3,50,000 to INR 5,50,000.

 Google Reviews

Faiza Wadia
Dr Jay sir is the God of Endometriosis. There is no one better and more honest than him. Assistants Vismay sir and toral madam and harshita madam are so good.
I am operated here for severe endometriosis of the urine bladder. I am done laparoscopic surgery here under guidance of Jay sir. My recovery is excellent and I am heading back home in a day itself.
For people who have endometriosis, this is the person to go to.

Umesh
My wife was suffering from scar endometriosis for a period more than 1.5 years. We visited lot many doctors who gave us different opinions at different times.
We came to know about Dr. Jay from YouTube videos. He gave us best advice. In Sept 21, my wife got operated at his hospital and relieved of all the pain. Lot many thanks to you sir.

Advazeem Sk
AS EVERYONE says He is the KING of Endometriosis. He is the best surgeon ever. We came from Jalgaon to get surgery done.
He is a big man, extremely busy and superstar. He is very down to earth person. He also gives us concession in surgery. I am extremely happy to my doctor for sending me to Jay sir.

B S KHAN
One of the best endometriosis doctor for doing surgery. We have come to Mumbai from Jalgaon for this surgery. Very fantastic hospital. Very famous dr jay Mehta and very kind with heart.
All blood tests are done in hospital only so no running around to laboratory again and again. There are many good food joints around for out of Mumbai patients to eat good food. Thank you staff for kind guidance.

Nawab Saab
I was suffering from severe endometriosis since years. We have had previous 3 surgeries. The pain was excruciating.
Finally we were told about Dr Jay Mehta by our doctor. My surgery was a big one. It involved bowel resection for endometriosis.
Dr Jay had assured me that I will up and bout in the next day of surgery and here I am. Going home. Pain free. This is one person who is GOD for me. I don't know how best to thank him. Thanks a lot. You are by far the best doctor for Endometriosis Treatment in Mumbai,  I have met in my life.
Thoroughly impressed by your direct and honest approach.

Falguni Kundu
Very happy with doctor and team here. Dr Mehta sir is KING of Endometriosis.
We are travel from Gujarat to Mumbai to become operated. Mehta sir is very nice and gentleman, he give us decision to do surgery in charitable. Thanks for efforts that my wife is now saved.
Thank you to Toral madam and vismay sir also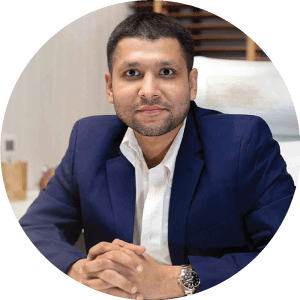 Dr. Jay Mehta
Fertility and IVF Specialist
Dr. Jay Mehta is the Scientific Director of Shree IVF Clinic. He is a well-known Fertility and IVF Specialist and also among few doctors in the country who specializes in Embryology and Andrology.