What is Perineal Reconstruction?
Perineal reconstruction is the rebuilding of damaged or deformed tissue between the genitals and anus. The goal of this surgery is to correct perineal descent as well. It is so that the functional vaginal introitus increases. The restored pelvic outlet helps in relieving the stress pressures. Perineal reconstruction is indicated when the anticipated defect is large and cannot be enclosed with simple sutures. Hence, it is performed to close defects and restore the perineal function. After this surgery, there are no defects, and there is the restoration of perineal functions. It may also include penile or vaginal reconstruction.
Everything You Need to Know About Perineal Reconstruction
Why is perineal reconstruction done?
Perineal reconstruction surgery takes place to bring the anus into its normal position. The goal of this surgery is to correct perineal descent as well. It is so that the functional vaginal introitus increases. The restored pelvic outlet helps in relieving the stress pressures also.
Doctors recommend this procedure when there is a large defect and is not perfect with stitches. After this surgery, there are no defects, and there is the restoration of perineal functions. Vaginal or penal reconstruction is also included in this surgery.
This surgery mainly takes place for congenital and acquired deformities or restoration as well. Doctors recommend this surgery following surgery after cancer in the urinary and genital parts of the body. Furthermore, the surgeons first assess the different statuses of the body.
Some are nutritional status, nature, and degree of the perineal wounds, blood parameters, defects, and function of the perineal. Cancer ablation is one of the traumatic procedures which doctors assess by this procedure as well. The surgeons decide the need for a particular flap according to the assessment.
Perineal reconstruction procedure
The reconstruction is a choice between the pudendal flap which is used for smaller defects. Doctors also use the regional flap which is for larger defects. The selection of the flap depends upon different factors.
Some of them are the size and shape of the defects, donor site availability, choice of the patient, surgeon expertise, previous treatments. Bilateral gracilis flaps provide muscle skin whereas tensor fascia lata or VRAM flaps provide plenty of skin. The compromisation of vascularity of possible flap is for previous operations and also radiotherapy.
Surgeons consider intraoperative patient positioning as well. If unilateral/bilateral IGAP flaps are used the supine patient will have to be rotated. The rotation is done into a prone position or a lateral decubitus. There will also be restrictions in the option of thigh flaps and VRAM if the patient has to remain supine during the procedure.
What are flaps in reconstructive surgery?
The flap is a kind of tissue that gets a lift from the site of a donor to the site of the defect. Also, the doctors perform this with an intact supply of blood. Types of flaps include:
Muscle flaps – These contain only muscle tissue that restores functions and fills defects. It may need a cover for that there will be the use of skin.
Cutaneous flaps – These flaps contain superficial fascia and full thickness of the skin also. These flaps are ideal for small defects.
Bone flaps – These flaps contain bone tissue and are also ideal for bony defects.
Fascia-cutaneous flaps – They contain superficial fascia, the full thickness of skin, deep fascia, subcutaneous tissue, and more supply of blood. It can also fill up larger defects.
Musculocutaneous or myocutaneous flaps – These flaps contain an additional layer of muscle to the fascia-cutaneous flap. It also restores function and fills deeper defects.
Many such regions of the body are also ideal as flaps for the perineal reconstruction procedure. Furthermore, the assessment of the defect helps in selecting the choice of the flaps.
The options of flaps are :
Gracilis myocutaneous flaps (most commonly used)
Abdominal flaps
Thigh flaps
Groin flaps
Gluteal (buttocks) flaps
Rectus femoris flaps
Perforator flaps
Treatment Options For Cosmetic Gynaecology
Cosmetic Gynaecology
Cosmetic gynecology helps to improve the function or physical appearance of the labia and vagina as well.
Hymenoplasty
When the broken hymen is restored through surgery, it is known as hymenoplasty or hymnography.
Labial reconstruction
Labiality serves both cosmetic and functional benefits. It helps to remove the excess skin in the labia, which causes irritation by twists and turns.
Vaginal Reconstruction
Age and childbirth can change the vagina, and there are some women who want to reverse those changes.
Risk & Complications of perineal reconstruction
Risks with perineal reconstruction include:
Local wound problems such as infection, pain, delayed healing, bleeding.
Scarring issues such as discolouration, itching, sensitivity, the width of the scar
Ischemia, which is the loss of tissue oxygen of the skin resulting in partial or delayed healing. Sometimes there is also a complete loss of skin.
Temporary palsy of the largest nerve of the body. It runs from the lower back to the toes
Surgeons also ask to avoid this surgery to people suffering from the vascular disease in the lower limbs. It is because this may cause complications like:
Pain
Reduced sensation of touch
Temporary weakness which lasts for an average of six months
Tingling
Poor reaction to anaesthesia as well
Running, walking, and sports may have interfered with persistent weakness simultaneously
Perineal reconstruction recovery time
The recovery time also varies depending upon the condition of the patient. Pain, post-surgical swelling, bruising lasts for a week or two also. Patients can walk comfortably after five to seven days of the surgery as well.
Patients can resume sexual intercourse and exercise after four to six weeks of the surgery. Sometimes patients may also feel tired and weak in the first six weeks. Doctors also recommend regular follow-up to monitor the healing.
Perineal reconstruction Cost
The cost of perineal reconstruction ranges between Rs. 2,00,000 to Rs.3,00,000.
Perineal reconstruction procedure causes no pain during the time of the surgery though. Although postoperative pain depends upon the tolerance of the patient. Regular follow-up is also advised by the surgeons to monitor the healing.

 Google Reviews

Faiza Wadia
Dr Jay sir is the God of Endometriosis. There is no one better and more honest than him. Assistants Vismay sir and toral madam and harshita madam are so good.
I am operated here for severe endometriosis of the urine bladder. I am done laparoscopic surgery here under guidance of Jay sir. My recovery is excellent and I am heading back home in a day itself.
For people who have endometriosis, this is the person to go to.

Umesh
My wife was suffering from scar endometriosis for a period more than 1.5 years. We visited lot many doctors who gave us different opinions at different times.
We came to know about Dr. Jay from YouTube videos. He gave us best advice. In Sept 21, my wife got operated at his hospital and relieved of all the pain. Lot many thanks to you sir.

Advazeem Sk
AS EVERYONE says He is the KING of Endometriosis. He is the best surgeon ever. We came from Jalgaon to get surgery done.
He is a big man, extremely busy and superstar. He is very down to earth person. He also gives us concession in surgery. I am extremely happy to my doctor for sending me to Jay sir.

B S KHAN
One of the best endometriosis doctor for doing surgery. We have come to Mumbai from Jalgaon for this surgery. Very fantastic hospital. Very famous dr jay Mehta and very kind with heart.
All blood tests are done in hospital only so no running around to laboratory again and again. There are many good food joints around for out of Mumbai patients to eat good food. Thank you staff for kind guidance.

Nawab Saab
I was suffering from severe endometriosis since years. We have had previous 3 surgeries. The pain was excruciating.
Finally we were told about Dr Jay Mehta by our doctor. My surgery was a big one. It involved bowel resection for endometriosis.
Dr Jay had assured me that I will up and bout in the next day of surgery and here I am. Going home. Pain free. This is one person who is GOD for me. I don't know how best to thank him. Thanks a lot. You are by far the best doctor for Endometriosis Treatment in Mumbai,  I have met in my life.
Thoroughly impressed by your direct and honest approach.

Falguni Kundu
Very happy with doctor and team here. Dr Mehta sir is KING of Endometriosis.
We are travel from Gujarat to Mumbai to become operated. Mehta sir is very nice and gentleman, he give us decision to do surgery in charitable. Thanks for efforts that my wife is now saved.
Thank you to Toral madam and vismay sir also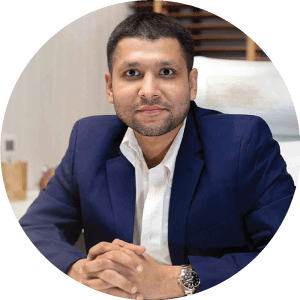 Dr. Jay Mehta
Fertility and IVF Specialist
Dr. Jay Mehta is the Scientific Director of Shree IVF Clinic. He is a well-known Fertility and IVF Specialist and also among few doctors in the country who specializes in Embryology and Andrology.