What is Vaginal Reconstruction?
Age and childbirth can change the vagina, and there are some women who want to reverse those changes. Vaginal reconstruction is the surgical procedure of creating an artificial vagina after a woman had a vaginectomy (surgery to remove the vagina). You must ask your doctor if a vaginal reconstruction is possible or not after you have undergone surgery of removing your vagina. Enabling vaginal intercourse is one of the aims of vaginal reconstruction. During this procedure, a plastic surgeon uses muscle and skin from other parts of the body for the reconstruction.
Ideal candidate for vaginal rejuvenation
Everyone is not an exemplary candidate for vaginal rejuvenation treatments. A woman with less sensation during the time of intercourse and multiple deliveries is the ideal candidate for vaginal rejuvenation.
A good candidate is also the one who has soreness or pain while sexual activities, riding a bike, or horseback riding. The procedure is ideal for women whose vagina has altered due to childbirth.
Why women do vaginal surgery?
Accidents and birth defects can affect the uro -vaginal regions of any woman. Different kinds of therapies, such as non-surgical and surgical procedures, help restore feelings of the vagina. Some of the reasons for the need for vaginal surgery are:
To restore the birth defects.
To reconstruct the urinary tract and reproductive system, which are affected by cancer. Cancer patients undergo radiation treatments and surgeries for the organs affected by cancer.
To treat women with vaginal prolapsed.
To reconstruct and rejuvenate the genitals suffered from rape and accident.
Vaginal rejuvenation before and after
Before the vaginal rejuvenation, the vaginal area and the pelvic regions may be damaged or may have excess skin. Doctors may also find that lax muscles lose, the vaginal canal broader, and the opening bigger. There will be reduced sexual pleasure.
After the vaginal rejuvenation procedure, the lax muscles will be tightened, the vaginal canal will be narrower, the openings will become small. The excess skin around the vaginal canal will be removed, but the labia will reduce and undergo re-shaping.
What are the risks of a vaginoplasty?
There are two kinds of risks associated with vaginoplasty. One is a general risk, and the other is a specific risk.
General risks
Some of the general risks associated with the surgical procedure include infections, hemorrhage, and anesthetic accidents. Surgical risks are very less if the patient is in a healthy condition before the operation.
Specific risks
Some of the specific risks of the surgeries include vault prolapsed, vaginal fistula, uterovaginal. It depends on whether the person has colitis and a uterus and also diverted colitis.
How to Prepare for a Vaginal Rejuvenation Procedure
Your surgeon will advise you on certain tips to prepare yourself before the surgery. You will be asked to stop drinking alcohol, smoking, and consuming steroids or any other medications prior to the surgery. If you maintain these tips, you will have a quick healing process.
What are the potential complications?
Complications related to vaginal reconstructions are similar to that of any other surgery which involves a general anesthetic. Some of the common complications are:
Infection
Pelvic pain
Neurologic injury
Bleeding
Bladder injury
Procedure of Vaginal Rejuvenation
The two most common vaginal rejuvenation procedures are vaginoplasty and labiaplasty. Some women need to tighten their vagina, while some wish to rectify the shape of the labia. Both of these procedures are different.
Vaginoplasty
This procedure is opted by women who wish to tighten lax muscles to get a tighter and narrower vaginal canal and smaller opening. The vaginal area widens because of childbirth or aging. This results in reduced sexual pleasure because of less friction during intercourse. The time needed for this procedure is 60 minutes. Laser used in this procedure helps to achieve very minimal incisions.
Labiaplasty
This procedure helps to transform and reshape the labia majora or the labia minora. It helps to correct irregularities and remove excess skin. Discomfort during intercourse can be caused due to larger labia. It can also make you feel uncomfortable while wearing a swimsuit. Reduction of the labia will not only change the shape of the labia but also achieve symmetry. This procedure also needs 60 minutes.
Post-Treatment Aftercare
The post-treatment aftercare for the non-surgical procedure and surgical procedure is different.
In the case of surgical vaginal rejuvenation, patients start recovering after six weeks. Immediately after the surgery, patients will be advised to walk as soon as the anesthesia wears off. The first priority of the surgeons will be to reduce the swelling, pain, and bruising by advising them to apply ice packs.
Medications will also be prescribed for pains to give relief after surgery. Doctors will advise limited exercise for the next 72 hours of the surgery and encourage wearing loose cotton clothes. Patients will be instructed to avoid sexual intercourse, swimming, or using a bathtub for the next six weeks after the surgery. Motorcycle riding, strenuous exercise, horseback riding, four wheelings must also be avoided.
In the case of non – surgical vaginal rejuvenation like augmentations with fillers or laser rejuvenation, the time needed for recovery is much shorter and not painful. Sexual intercourse is prohibited after the non-surgical procedure for about a week after the surgery.
Recovery after vaginal rejuvenation
After the vaginal rejuvenation procedure, there will be soreness, swelling, and bruising. It will take about a week or two for them to recover. After a few days of the surgery, patients will be able to walk comfortably. You will get the final result after a couple of months of the surgery. Also, you will be able to resume sexual activity after 4-6 weeks of the surgery.
Benefits of vaginal rejuvenation procedures
The six benefits of vaginal rejuvenation procedures :
Enhance your sexual satisfaction
Customize your individual needs
Re-impose tightness to the vaginal area
Your partner's sexual appearance will be improved
Urinary inconstancy will be improved.
Vaginal Rejuvenation cost
The total cost of the procedure will range between Rs. 30,000 to Rs. 50,000 in India. The price will be excluding medications.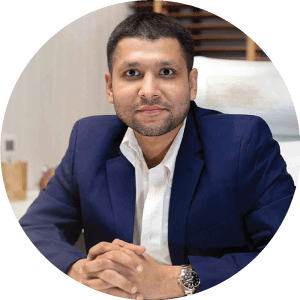 Dr. Jay Mehta
MBBS, DNB – Obstetrics & Gynecology
IVF & Endometriosis Specialist, Laparoscopic Surgeon (Obs & Gyn)
Dr. Jay Mehta is a renowned IVF specialist and fertility preserving surgeon in Mumbai, India. He is the Scientific Director of Shree IVF and Endometriosis Clinic, as well as the director of Uterine Transplant, Advanced Endometriosis and Gynac Cancer at Global Hospitals, Mumbai.
He is a well-known Fertility and IVF Specialist and also among few doctors in the country who specializes in Embryology and Andrology. He operates India's major cities including Mumbai, Pune, Chennai, Hyderabad, Bangalore, Ahmedabad, Agra, Delhi etc.
To book an appointment, call: +91 - 9920914115 or fill out our contact form

 Google Reviews

Faiza Wadia
Dr Jay sir is the God of Endometriosis. There is no one better and more honest than him. Assistants Vismay sir and toral madam and harshita madam are so good.
I am operated here for severe endometriosis of the urine bladder. I am done laparoscopic surgery here under guidance of Jay sir. My recovery is excellent and I am heading back home in a day itself.
For people who have endometriosis, this is the person to go to.

Umesh
My wife was suffering from scar endometriosis for a period more than 1.5 years. We visited lot many doctors who gave us different opinions at different times.
We came to know about Dr. Jay from YouTube videos. He gave us best advice. In Sept 21, my wife got operated at his hospital and relieved of all the pain. Lot many thanks to you sir.

Basavaraj N
The best doctor for endometriosis in India and Mumbai.
We came from Karnataka to Mumbai to do surgery. He is such a famous surgeon and a doctor. Extremely impressed with your humble behavior.
My wife had bowel endometriosis. There is one thing that I wish to mention. He is a very straightforward doctor. He answers everything, but he doesn't take over the smart nonsense of the patient.
Don't go by his simplicity, he will make such strong punchlines that your ego will come down to earth. He asked me to be a MAN. I will never forget that motivation

B S KHAN
One of the best endometriosis doctor for doing surgery. We have come to Mumbai from Jalgaon for this surgery. Very fantastic hospital. Very famous dr jay Mehta and very kind with heart.
All blood tests are done in hospital only so no running around to laboratory again and again. There are many good food joints around for out of Mumbai patients to eat good food. Thank you staff for kind guidance.

Nawab Saab
I was suffering from severe endometriosis since years. We have had previous 3 surgeries. The pain was excruciating.
Finally we were told about Dr Jay Mehta by our doctor. My surgery was a big one. It involved bowel resection for endometriosis.
Dr Jay had assured me that I will up and bout in the next day of surgery and here I am. Going home. Pain free. This is one person who is GOD for me. I don't know how best to thank him. Thanks a lot. You are by far the best doctor for Endometriosis Treatment in Mumbai,  I have met in my life.
Thoroughly impressed by your direct and honest approach.

Nausheen Khan
The best doctor in India for Endometriosis. I am actually honored to be treated by Jay sir.
I had come to him 3 years ago when he told me about surgery, but I got misguided by many other doctors and I took a leupride of 11 injections. Unhappy with the result and pain, I come back to Jay Mehta sir.
He scolded me but then operated on me too. I thank you him, for being so an honest and genuine doctor.
The KING of Endometriosis as he is rightly called, considers my finances and operates me in charity surgery. My family bless you always