If you are trying to become pregnant or are just curious about how fertile you are — you may have heard about certain tests that show your potential to conceive. You must be doing a lot of research on pregnancy as well. And somewhere, you must have come across the word follicle.
So one way to learn more about what's going on in there is by looking at ovarian follicles in your body. So this thought might have passed in your mind whether getting pregnant with one follicle is possible? So first, let's know a bit about ovarian follicles and later discuss the possibility of getting pregnant with one follicle.
What is an ovarian follicle?
An ovarian follicle is a small fluid-filled sac that contains an unfertilized egg in your ovaries. You're born with a set number of ovarian follicles, and each contains one egg — usually, 1 to 2 million follicles are present in the ovaries, which decline over time.
The follicle forms contain the oocyte or egg and other cell types that produce estrogen required for the normal development of the egg maturation.
By the time you hit puberty, only 25 percent of these follicles remain, i.e., around 300,000. At menopause, less than 1,000 ovarian follicles are left.
Role of ovarian follicles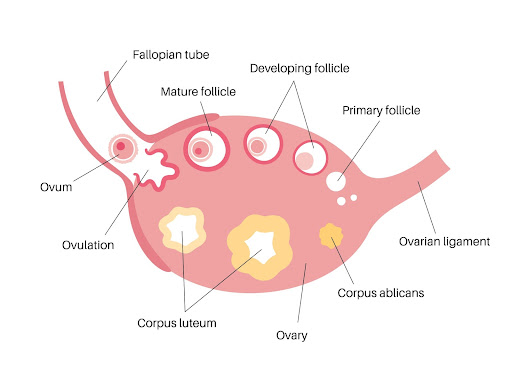 Each follicle goes through several stages of development. First, the most initial stage—primordial follicles are formed in the fetus's ovaries. Then, they remain until puberty, where they begin to develop and become primary follicles.
During ovulation, some of these follicles start to swell. Then, one of the follicles becomes dominant, and the others that started growing will recede. Other follicles that don't swell are known as antral follicles.
The diameter of a dominant follicle is around 22 to 24 mm. The dominant follicle has the largest size and quickest growth. The dominant follicle will grow further till it breaks open and releases an egg from your ovary. 
This egg will travel through your fallopian tube towards the uterus, where it will remain for about 24 hours to let the fertilization (the sperm meets the egg to fertilize it) happen. This cycle keeps happening every month till menopause (termination of periods).
The number of ovarian follicles present in the ovaries indicates the state of your fertility as the follicles contain immature eggs. These immature eggs develop further and get released during ovulation. Therefore, if you have a high number of follicles, you can release more eggs which increases your chance of a successful pregnancy.
Check this video to know more about ovulation and follicle development. 
Now, let's come back to the main question.
Can you get pregnant with only one mature follicle?
If you're trying to conceive naturally, yes, you can get pregnant till the follicle has the potential to release a mature egg down the fallopian tube to meet the sperm. But in case you are going through fertility treatment, it is a bit complicated. It will usually depend on your age and which therapy you are taking.
If you're using intrauterine insemination –IUI (sperms are placed directly in your uterus to fertilize your egg) and you are less than 40, having one or two mature follicles is preferred. Having more than that may not increase your chances of getting pregnant, but it can raise your chance of having twins or multiples.
However, if you are over 40 using IUI, therapies like ovulation-stimulating treatments will help create more mature follicles. Some experts say that women in this age group who have four mature follicles, their chances of having multiples tripled.
Suppose you're undergoing In vitro fertilization– IVF (mature eggs are collected and fertilized by sperm in a lab which are then transferred to a uterus). In that case, you will be prescribed some fertility medications to help produce more mature follicles, regardless of your age.
You may also receive hormone injections of follicle-stimulating hormone (FSH), luteinizing hormone (LH), or both a few weeks before to stimulate your ovaries further.
Hence, only one follicle is enough to get pregnant for an idle situation as in a natural cycle. The average size of a follicle ranging from 18mm – 20mm is considered a good follicle.
Conclusion
In some situations, one follicle is enough for pregnancy, but if you have trouble conceiving, then getting the right medical advice on increasing your follicular count might actually help. Some infertility treatments help in increasing this count and raise your chances of pregnancy regardless of your age.
If you are curious to know your overall chances of conceiving, reach out to our experts.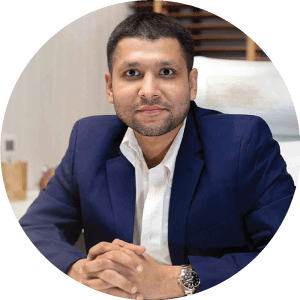 Dr. Jay Mehta
Fertility and IVF Specialist
Dr. Jay Mehta is the Scientific Director of Shree IVF Clinic. He is a well-known Fertility and IVF Specialist and also among few doctors in the country who specializes in Embryology and Andrology.