One of the most lethal forms of cancer in women is ovarian cancer. This is because it frequently goes undetected at early stages to cure it effectively. 
The symptoms of ovarian cancer might be subtle and difficult to identify from other diseases. However, bloating, difficulty eating, and an increased urge to pee are common symptoms for women with this cancer. Further, pain is a typical sign of ovarian cancer. In most cases, it manifests as pain in the lower back, side, or stomach.
Do you feel unwell with ovarian cancer?
Some symptoms of ovarian cancer include continuous indigestion or a feeling of being ill. In addition, symptoms of ovarian cancer include stomach discomfort and pain (gas, indigestion, pressure, bloating, and cramps). There are several symptoms of this disorder, but the most common ones are diarrhoea, constipation, and frequent urination.
How do you know if your ovary hurts?
Many women are diagnosed with ovarian cancer around the globe each year. Unfortunately, ovarian cancer is notoriously difficult to detect early in the disease's course. The signs and symptoms are vague and might be mistaken for other illnesses. Ovarian cancer is related to several symptoms, including these.
Pain in the abdomen and pelvis: Ovarian cancer may also cause acute and persistent discomfort in the pelvic and abdomen. Consult your doctor if this part of your body is causing you any difficulty.
Poor appetite:

Even if you haven't eaten or had a very low appetite, you should consult a doctor if you feel like you're always feeling full.

Frequent urination:

The need to urinate often might be a symptom. Three or four times an hour may be a sign that something is wrong with your urinary system.

Excessive vaginal bleeding:

Symptoms of ovarian cancer include post-menopausal haemorrhage and rectal bleeding, commonly observed after menopause. A doctor should be seen if these symptoms are present.

Back pain, constipation, fatigue, weight loss:

Ovarian cancer and other disorders may cause these symptoms. It's best to contact a doctor if these symptoms persist for an extended time.
How it affects you physically
Advanced ovarian cancer may lead to several side effects, including:
Fatigue or weakness:

This symptom was reported by 75% of women in one research.

Nausea, vomiting, or constipation is observed as

a frequent gastrointestinal reaction.

Edema:

Swelling in the legs or pelvis may be caused by an accumulation of extra fluid in bodily tissues.

Anemia:

The malignancy itself may induce a decrease in the number of red blood cells.

Ascites:

The malignancy is to blame for these fluid-filled sacs in the abdomen. Swelling, bloating, shortness of breath, indigestion, lack of appetite, and exacerbated tiredness are all possible symptoms of ascites.

Bowel or bladder obstruction:

Massive tumors might obstruct the intestines or the urinary system cause severe pain and discomfort.

Pleural effusion:

Fluid accumulates between the lung membranes and the chest cavity lining. Breathing problems and other symptoms may result from it, as well.
How does ovarian cancer begin?
Cancer of the ovaries develops when normal ovarian cells start to multiply abnormally. One or both ovaries may be affected by this condition. Till now, the malignancy has shown no obvious signs or symptoms. Symptoms such as nausea, weariness, and indigestion are sometimes mistaken for other health concerns.
Do you bleed with ovarian cancer?
Ovarian cancer might manifest itself in the form of vaginal bleeding. Because of this, you should know your ovaries may not function normally. This is true when it comes to menstrual flow. Ovarian cancer progresses at a rate that prevents the ovaries from performing their normal function of detoxifying the reproductive system. To put it another way: The outcome is an increase in the blood flow volume and intensity.
When should you be concerned about ovary pain?
The rapid development of lower belly discomfort or other serious symptoms may need urgent medical intervention. These symptoms may appear with the formation of cysts, damage to the ovary, enlarged ovaries or bursting of cysts. In severe or abrupt pain, consult your doctor as soon as possible.
Does it develop quickly?
Ovarian cancer progresses from one stage to another in a matter of months, causing it to be far more aggressive than malignancies such as breast cancer, which may take years to develop.
Conclusion
On the last note, women who suffer discomfort in their ovaries are often worried about ovarian cancer, which is prevalent. In addition, ovarian discomfort may be a sign of endometriosis, although it is not common, and there are many other probable explanations. Even so, it's critical to get medical attention if you have ovarian discomfort and get regular health checkups.
If you have any concerns or queries regarding ovarian cancer, consult our experts now.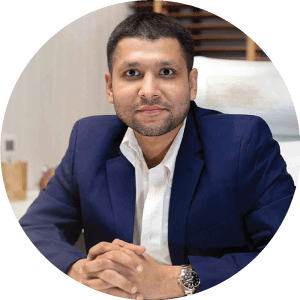 Dr. Jay Mehta
Fertility and IVF Specialist
Dr. Jay Mehta is the Scientific Director of Shree IVF Clinic. He is a well-known Fertility and IVF Specialist and also among few doctors in the country who specializes in Embryology and Andrology.