In this video Dr. Jay Mehta, we are going to try and understand the procedure for MICRO TESE for Non-Obstructive Azoospermia. The full form is Microdissection Testicular Sperm Extraction. Micro-TESE stands for Microsurgical Sperm Retrieval from the testicle. As you all know, Azoospermia is one of the most common causes of male infertility. And it is characterized by zero sperm counts. There are two categories for Azoospermia, Obstructive and Non-Obstructive.
Reach us by
contacting our 24/7 support team!
Reach out to us by contacting our 24/7 support team!
Non-Obstructive Azoospermia
Non-Obstructive Azoospermia is the most common one. Ordinance four comes in is the more common variant is the non-obstructive azoospermia which typically means that the entire anatomy of the male reproductive system is normal. That means, testes are structurally normal, there were differences normal seminal vesicles are normal and the outflow tract is normal, but there is an inherent defect in the sperm production occurring inside the distance.
There are various reasons for this. It could be hormonal, injury-related, or it could be for radiation or Chemotherapy. In these situations of non-obstructive azoospermia, one can have a testis, which is slightly smaller in size, slightly abnormally located slightly softer inconsistency. And there could be variable hormonal reports predominantly with elevated FSH levels and either low or normal testosterone levels.
Treatment Procedure
In all cases of non-obstructive azoospermia, the treatment of choice for a male patient to ensure to have his forms for his genetic offspring is to perform microdissection. Remember, the test is it is divided into several compartments. And these compartments house something called as semi ferrous abuse, these are independent cylindrical bodies, which cater to sperm production. When we talk of non-obstructive azoospermia, it means that we hope that there is still the presence of focal sperm production.
That means inside the test is that could be still some areas that are producing spots, don't the majority of areas are not producing spots. But we are going to hunt for those areas which are producing sperms so that we get viable spots out of it.
Remember microdissection is a procedure that is done under either spinal or general anesthesia. It's a procedure that takes approximately two to two and a half hours to do so the doctor has to be extremely patient while doing the procedure. Because it is a game of trial and error hit and runs, we can identify a tool that we think is good, but the laboratory examination would reveal no spots inside. And we need to begin the whole procedure again. It's important to understand that males who undergo microdissection are relieved from the hospital within 24 hours.
The test is carefully structured back reconstructed, and there could be slight post-operative pain for the first 48 hours. But males undergoing this procedure are allowed to resume their office after 48 hours of the procedure. Mild painkillers and a small course of either three days or five days of antibiotics could be given at the end of the procedure. This is the technical aspect. The other thing you should remember is that non-obstructive azoospermia is based on hormonal parameters.
Your doctor can give you certain pre-medications, which could be in the form of tablets or in the form of injections. These could probably last for approximately three to six months if they are deemed necessary. This is not given to all the patients. So I repeat only if they are deemed necessary. They could be given to you. And even in those patients, on a broad average of one year, we do get a sperm retrieval rate above 35%.
What is important to understand is that this technique is one of the best hopes for a patient with non-obstructive. By this technique, he can have his child with his sperm.
The techniques will keep on improvising, but it's very important that as a couple, and as a male patient, you don't give up. You don't lose hope. If you follow the treatment under the correct hands, you are giving yourself a 55 to 60% chance of still finding your forms and having your child.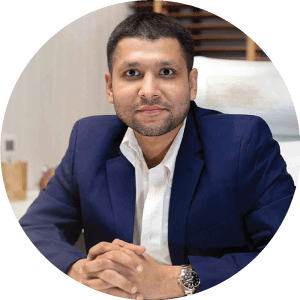 Dr. Jay Mehta
Fertility and IVF Specialist
Dr. Jay Mehta is the Scientific Director of Shree IVF Clinic. He is a well-known Fertility and IVF Specialist and also among few doctors in the country who specializes in Embryology and Andrology.
Infertility means that you are unable to conceive after one year of unprotected intercourse, while sterility refers to your inability to give birth to a child
Don't hesitate to seek help if you are having trouble conceiving – early diagnosis and treatment for male infertility is the best way to achieve success
Infertility means that you are unable to conceive after one year of unprotected intercourse, while sterility refers to your inability to give birth to a child
Don't hesitate to seek help if you are having trouble conceiving – early diagnosis and treatment for male infertility is the best way to achieve success
Infertility means that you are unable to conceive after one year of unprotected intercourse, while sterility refers to your inability to give birth to a child
Don't hesitate to seek help if you are having trouble conceiving – early diagnosis and treatment for male infertility is the best way to achieve success
Every time IVF is performed, the doctors re-examine all parameters. Even if no problems are identified after all these tests, the 2nd IVF success rate will be 35-40%