What is Triple Marker Pregnancy Test?
A triple marker pregnancy test is done between the 15th to the 18th week of pregnancy. Doctors sometimes recommend the triple marker test to examine if there is any genetic disorder in prevailing the fetus or not. It is famous for multiple names such as triple test, multiple marker test, multiple marker screening, and AFP plus.
Blood samples are collected from a pregnant mother, and the level of AFG (Alpha-fetoprotein), hCG (Human chorionic gonadotropin), & estriol present in the blood are measured. Couples get to know whether the baby is healthy or not by the results of this test.
Reason for the triple marker test
This test leads to disclosing risk factors for the fetus. It is used to detect neural tube defects such as spina bifida and anencephaly, and other congenital disabilities. It helps to see if the fetus has any risk of Down's syndromes or not. Down syndrome is a genetic disorder resulting from abnormal cell division, thus producing an extra copy of chromosome 21 in each cell.
Whether there is any risk of trisomy 18 [also known as Edward's syndrome is a disorder in which each cell contain three pairs of chromosome 18 instead of 2 pairs], or if the pregnant mother is expecting more than two babies, can also be detected with the help of triple marker test. Moreover, this test reveals all the abnormalities present in the baby.
How is the test performed?
The triple marker pregnancy test process is as similar and comfortable as other blood test procedure. The steps are:
Step 1: Like all other tests, the technician will first ask you to extend your arm and make a fist to help him find the vein.
Step 2: Secondly, a strap will be placed around the arm and will secure this point firmly.
Step 3: Nextly, the technician will clean the area with an antibacterial and antiseptic wipe so that there is no chance of pathogens entering your body.
Step 4: Then, a pre-sterilized needle and a new one will be inserted, attached to a vial used for blood storage.
Step 5: Once the vial is full, the technician will pull out the vial and clean the area with another antiseptic and antibacterial swab.
Step 6: For evaluation, the collected blood sample will be sent to a lab. The biochemist in the lab will be evaluating the selection.
Step 7: The results will be put in software that will be further sent to the doctor. After that, the reports will be shared by the doctor with the pregnant couple.
There is no such side effects revealed till now for this test. Since the amount of blood withdrawn is meager, there is no chance of significant blood loss from the body. Thus, it ensures safety for both mother and baby.
Alternative screening test
Couples may sometimes go for an alternative screening test. This is a second opinion regarding this case for a better understanding of the diagnosis. Getting tests like a prenatal ultrasound can help. It is always best to talk with a primary healthcare physician for a list of alternative tests to help you make the right choice about which test to opt for. You can also choose more than one advisor.
Precautions to take during the test
It is very much essential to disclose all your informative information to the doctor while undergoing the test. Misguidance may lead to alteration in the results of the test. Doctors should always be careful about drawing blood to ensure that fetus is not affected by any blood-borne pathogens.
Thus it is recommended to use new needles, antiseptic and antibacterial wipes. There is no such hard and fast rules for mother, but doctors should follow it if prescribed by doctors.
Benefits of triple marker screening  test
A triple marker pregnancy test is highly beneficial for women who are above the age of 35. Since at this age lower count of eggs are present in the ovary. One may have much complexity during her pregnancy. Although by this test, one can discover the congenital disabilities in a baby, thus helping both the parents prepare for the same in advance.
Some genetic disorders or defects include the following:
Trisomy 18 or Edward's syndrome is a common type of chromosome abnormality.
Down syndrome is a condition in which extra genetic material from chromosome 21 is included in the cell.
Neural tube defects, as discussed earlier are congenital disabilities of the total nervous system, i.e., brain, spine, and spinal cord.
Who benefits from the triple marker test?
Doctors mostly recommend the test to women who are above the age of 35 or above. Couples who have a history of congenital disabilities can also get benefitted from this test. Women who use insulin and are diabetic patients can be satisfied with these test results. It helps to determine whether the baby is affected or not.
Triple marker test is also helpful to those who have been highly exposed to radiation.  Women having severe viral infection during pregnancy can also opt for this test but definitely with a doctor's consultation.
Interpretation of the test result
This test reveals the genetic disorders and other abnormalities in the fetus. The results, however, depends on some factors, which are as follows:
Women are born with fixed numbers of eggs. During each menstrual cycle, they keep losing each of them; thus, they decrease as they get older. Eggs present in older women may have abnormal chromosomes that can lead to genetic disorders.
Certain groups of people have a higher birth rate than others. There are many factors responsible for such variations all across the world, such as:
This could be due to determinant of egg and sperm quality.
Variation in environmental exposures relating to lifestyle.
Dietary factors.
Socio-economic and cultural factors.
Accessibility of fertility treatment.
Behavior towards seeking medical care and consequently, reproductive outcomes.
Excessive body weight is harmful to both the mother and the fetus, whether expecting one or more children. Complications arrive when it comes to multiple pregnancies. At this point, one needs to be much more conscious.
Preparation of triple marker screening
There is no such preparation needed for a conceiving mother during a triple marker pregnancy test. There are also no such restrictions on consuming foods. But during pregnancy, one must follow a healthy diet, which is very much necessary for both mother and baby. However, one must always consult an experienced and reliable doctor for the best advice.
The usual range of triple marker test
The average levels of triple screen markers in pregnant women ranged from 1.38 to 187.00 IU/ml for AFP, 1.06 to 315 ng/ml for hCGβ, and from 0.25 to 28.5 nmol/l for uE3.
Results of a triple marker test
After analyzing the test report, one will know whether the report's outcome is positive or negative. Negative screen results indicate that the fetus is very low or not at risk of developing any congenital disabilities. Sometimes it may also happen that doctors may prescribe for many other tests if he/she is not satisfied with the values.
Triple marker test cost
Triple marker pregnancy test cost may vary depending on some factors. They are the sensitiveness of instruments and usage of machines responsible for how accurate the results will be. The reputation of the institute from where the test will be done also needs to be considered. On average, the minimal range is Rs.2,500, whereas the maximum amount may exceed Rs.4,000.

 Google Reviews

Faiza Wadia
Dr Jay sir is the God of Endometriosis. There is no one better and more honest than him. Assistants Vismay sir and toral madam and harshita madam are so good.
I am operated here for severe endometriosis of the urine bladder. I am done laparoscopic surgery here under guidance of Jay sir. My recovery is excellent and I am heading back home in a day itself.
For people who have endometriosis, this is the person to go to.

Umesh
My wife was suffering from scar endometriosis for a period more than 1.5 years. We visited lot many doctors who gave us different opinions at different times.
We came to know about Dr. Jay from YouTube videos. He gave us best advice. In Sept 21, my wife got operated at his hospital and relieved of all the pain. Lot many thanks to you sir.

Basavaraj N
The best doctor for endometriosis in India and Mumbai.
We came from Karnataka to Mumbai to do surgery. He is such a famous surgeon and a doctor. Extremely impressed with your humble behavior.
My wife had bowel endometriosis. There is one thing that I wish to mention. He is a very straightforward doctor. He answers everything, but he doesn't take over the smart nonsense of the patient.
Don't go by his simplicity, he will make such strong punchlines that your ego will come down to earth. He asked me to be a MAN. I will never forget that motivation

B S KHAN
One of the best endometriosis doctor for doing surgery. We have come to Mumbai from Jalgaon for this surgery. Very fantastic hospital. Very famous dr jay Mehta and very kind with heart.
All blood tests are done in hospital only so no running around to laboratory again and again. There are many good food joints around for out of Mumbai patients to eat good food. Thank you staff for kind guidance.

Nawab Saab
I was suffering from severe endometriosis since years. We have had previous 3 surgeries. The pain was excruciating.
Finally we were told about Dr Jay Mehta by our doctor. My surgery was a big one. It involved bowel resection for endometriosis.
Dr Jay had assured me that I will up and bout in the next day of surgery and here I am. Going home. Pain free. This is one person who is GOD for me. I don't know how best to thank him. Thanks a lot. You are by far the best doctor for Endometriosis Treatment in Mumbai,  I have met in my life.
Thoroughly impressed by your direct and honest approach.

Nausheen Khan
The best doctor in India for Endometriosis. I am actually honored to be treated by Jay sir.
I had come to him 3 years ago when he told me about surgery, but I got misguided by many other doctors and I took a leupride of 11 injections. Unhappy with the result and pain, I come back to Jay Mehta sir.
He scolded me but then operated on me too. I thank you him, for being so an honest and genuine doctor.
The KING of Endometriosis as he is rightly called, considers my finances and operates me in charity surgery. My family bless you always
There are numerous medical conditions that often remain outside the general public's awareness. One such condition is the absent vagina
Absent vagina, also known as Mayer-Rokitansky-Küster-Hauser (MRKH) syndrome, presents unique challenges to those it affects.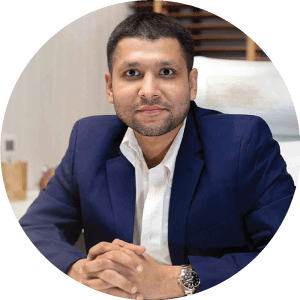 Dr. Jay Mehta
Fertility and IVF Specialist
Dr. Jay Mehta is the Scientific Director of Shree IVF Clinic. He is a well-known Fertility and IVF Specialist and also among few doctors in the country who specializes in Embryology and Andrology.