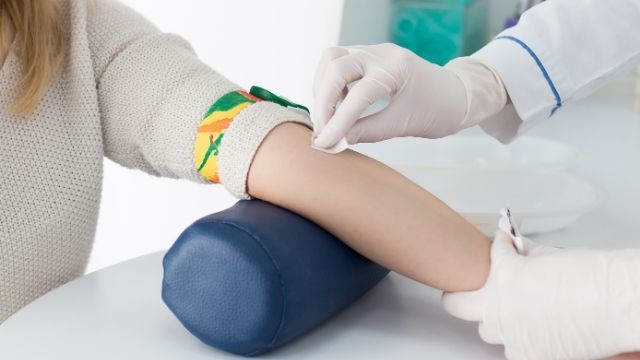 What is Quadruple Test?
The quad screen or the quadruple marker test is a prenatal test. It helps to detect whether there are any birth defects in the baby or not for example conditions such as Down's syndrome, neural tube defects, trisomy 18 (Edward's syndrome), and abdominal wall defects. The blood sample is collected by a phlebotomist (a technician who has a specialization in drawing blood) from the mother for assessment. It is a simple process & there are no specific steps that require to be followed. The woman can eat and drink normally. The quadruple test is performed in the second trimester.
Why the quadruple test is done?
It is ideal for evaluation of the pregnancy if it has a good chance of certain conditions such as Down's syndrome, neural tube defects, trisomy 18 (Edward's syndrome), and abdominal wall defects. If the test results has an indication of any such results or conditions mentioned above then it should be sent for further screening and testing.
The levels of the above-mentioned substances always keep changing every week during the pregnancy period. It is always essential to know the phase and stage of pregnancy before taking this test.  Each biomarker is capable of identifying certain abnormalities in the baby's health.
For example, if the Quad screen test shows high AFP levels in the blood then it is a neural problem, such as spina bifida. In another case, if the test results show low levels of AFP then the condition can be a Down's syndrome.
Sometimes depending upon the timing of the pregnancy and other symptoms, the women get the advice to go for prenatal tests along with the Quad screen test. Some tests get recommendation along with quad screen test such as an Ultrasonography (USG) and a blood test.
How the test is performed?
This test takes place by the help of a phlebotomist- a technician who has a specialization in drawing blood.
The procedure for the Quadruple test is as follows:
Pretest– Before the test, the woman will need to check-in and present the order form, identification card, and method of payment. In certain cases, the woman will sign some forms such as consent forms, etc which acknowledges that the doctor, hospital, laboratory have not the permit to share any medical information without the woman's content.
Throughout the test– During the woman's turn to have the blood test, the phlebotomist will meet with her and confirm her identity. They will ask her to seat comfortably with the arm on an armrest. The blood is always taken from the non-dominant arm, as it is often comfortable.
A band is lightly tied around the arm and the phlebotomist will look at the veins and clean off the area at the same time as well. Then a needle will get inserted into the vein and during this time a slight pinprick pain can be felt. The needle will remain in the vein for about 20 seconds giving time for the blood collection.
Post-test– After the collection of the blood, the phlebotomist will make sure that the bleeding stops. If it persists then he/she will be asked to place a hand over the wound for a few seconds. It will help the bleeding to stop. Once the bleeding stops, doctors will discharge the woman immediately.
Risks of quadruple test
There are no such traces of risks in this quadruple test. On the other hand, many people in the family do not prefer this test because it creates anxiety for the family. Even in some cases, abortions are beyond the consent of the mother if it found that the baby is suffering from any conditions.
Also in many cases, the mother has the blame for the conditions of the baby, and these lead to many serious issues. One thing that should be in mind is that after the blood test there can be blood dripping out from the wound. If it does not stop, you should consult a doctor immediately.
How do you prepare?
It is not necessary to physically prepare for the test, rather one should prepare emotionally for the test by discussing the possible outcomes. To prepare one must keep in mind the following factors:
Timing– You can take the test as soon as possible from a nearby clinic if the doctor finds it necessary.
Location– Doctors mainly refer you to a clinic for taking the test. If you have a medical claim then you can find certain places where these tests take place from their annexure.
What to wear– One can wear anything he/she feels fine and comfortable in. One should prefer to wear half sleeves for the blood test to proceed smoothly. Some of you might have a problem with the visible bandage after the test. Therefore, one can carry any sort of clothes to cover oneself.
Food and drink– There are no limitations as far as food and drinks are considered. Doctors often give recommendations to eat or drink something before getting your blood samples. It is so that you won't be dizzy afterward.
What to Bring– To prevent fainting one should eat proteins and enough water. You should also bring a jacket or a shawl, even if it is warm out because some people feel cold after drawing the blood.
Quadruple test results
It may take approximately a week for your test results to be ready. The results of your quad screening test include numerical values of the four hormones that are for examination. The test results will stay with your doctor, and you may be able to look them up on a computer if you have access to sign in to your medical records.
The report itself may not include an assessment or comments about whether your baby is at high or low risk of certain conditions. Interpretation of these results requires a physician who is familiar with taking care of pregnant women.
The lab results and their meaning are as follows:
AFP: If your AFP is high in comparison to the normal range, then there is a chance that the growing baby has anencephaly or spina bifida. If AFP is low, this can be a marker of Down syndrome.
Estriol: Low levels of estriol can be a marker of Down syndrome, anencephaly, and Edwards syndrome.
HCG: Increased HCG levels are in Down syndrome and low levels are in anencephaly or Edwards syndrome.
Inhibin A: High levels of inhibin A are with Down syndrome.
High levels of HCG are also if you are pregnant with more than one baby. Conditions and risks need to have an evaluation by considering more than one of the four measures. Using the quad screen test, there is a chance of overestimating or underestimating the risk of problems with the baby or the pregnancy.
Quadruple test cost
In general, this test likely covers your health plan. And there is a possibility that your health plan won't cover the cost at all. You should be able to get an answer regarding your coverage and the cost by calling the information number on your insurance card. It is done by giving them the name of the test.
If you are paying for the test yourself, the out-of-pocket cost can vary tremendously. It is because of region to region and even from one lab to another. There is likely a technician fee and a fee for processing. You can check the cost of the technician fee with your doctor's office or hospital.
You should also be sure to bring the order for your test, a form of identification, your insurance card, and a method of payment in case you have to pay a co-pay.

 Google Reviews

Faiza Wadia
Dr Jay sir is the God of Endometriosis. There is no one better and more honest than him. Assistants Vismay sir and toral madam and harshita madam are so good.
I am operated here for severe endometriosis of the urine bladder. I am done laparoscopic surgery here under guidance of Jay sir. My recovery is excellent and I am heading back home in a day itself.
For people who have endometriosis, this is the person to go to.

Umesh
My wife was suffering from scar endometriosis for a period more than 1.5 years. We visited lot many doctors who gave us different opinions at different times.
We came to know about Dr. Jay from YouTube videos. He gave us best advice. In Sept 21, my wife got operated at his hospital and relieved of all the pain. Lot many thanks to you sir.

Basavaraj N
The best doctor for endometriosis in India and Mumbai.
We came from Karnataka to Mumbai to do surgery. He is such a famous surgeon and a doctor. Extremely impressed with your humble behavior.
My wife had bowel endometriosis. There is one thing that I wish to mention. He is a very straightforward doctor. He answers everything, but he doesn't take over the smart nonsense of the patient.
Don't go by his simplicity, he will make such strong punchlines that your ego will come down to earth. He asked me to be a MAN. I will never forget that motivation

B S KHAN
One of the best endometriosis doctor for doing surgery. We have come to Mumbai from Jalgaon for this surgery. Very fantastic hospital. Very famous dr jay Mehta and very kind with heart.
All blood tests are done in hospital only so no running around to laboratory again and again. There are many good food joints around for out of Mumbai patients to eat good food. Thank you staff for kind guidance.

Nawab Saab
I was suffering from severe endometriosis since years. We have had previous 3 surgeries. The pain was excruciating.
Finally we were told about Dr Jay Mehta by our doctor. My surgery was a big one. It involved bowel resection for endometriosis.
Dr Jay had assured me that I will up and bout in the next day of surgery and here I am. Going home. Pain free. This is one person who is GOD for me. I don't know how best to thank him. Thanks a lot. You are by far the best doctor for Endometriosis Treatment in Mumbai,  I have met in my life.
Thoroughly impressed by your direct and honest approach.

Nausheen Khan
The best doctor in India for Endometriosis. I am actually honored to be treated by Jay sir.
I had come to him 3 years ago when he told me about surgery, but I got misguided by many other doctors and I took a leupride of 11 injections. Unhappy with the result and pain, I come back to Jay Mehta sir.
He scolded me but then operated on me too. I thank you him, for being so an honest and genuine doctor.
The KING of Endometriosis as he is rightly called, considers my finances and operates me in charity surgery. My family bless you always
There are numerous medical conditions that often remain outside the general public's awareness. One such condition is the absent vagina
Absent vagina, also known as Mayer-Rokitansky-Küster-Hauser (MRKH) syndrome, presents unique challenges to those it affects.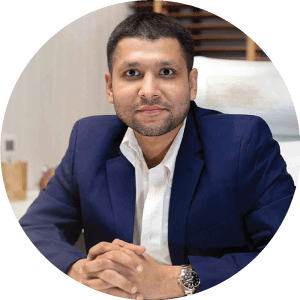 Dr. Jay Mehta
Fertility and IVF Specialist
Dr. Jay Mehta is the Scientific Director of Shree IVF Clinic. He is a well-known Fertility and IVF Specialist and also among few doctors in the country who specializes in Embryology and Andrology.