Ovarian cancer is on the rise among both young and older women. The death rates are higher than other gynecological cancers and about 3% of all cancers in women are ovarian cancer. 
Cancer treatment depends upon how fast it gets diagnosed and treated. Early diagnoses can allow doctors to begin treatment at the right time and save a life.
Early diagnosis depends upon how well you detect initial signs and symptoms and reach a doctor. In this case, a lot of women wonder if they can check for ovarian cancer at home.
Like other home testing kits available for pregnancy or other diseases like HIV and in recent times even for covid, are there any home test kits for ovarian cancer?
Let's know about some basics of ovarian cancer and if there are any kits to detect it.
Ovarian Cancer and Its Causes
Ovarian cancer starts when cells grow abnormally and multiply at a fast pace. These cells then form a mass resulting in a tumor. Moreover, doctors don't know a specific cause that results in this cancer. It is seen that some mutations in the DNA can result in abnormal cell growth.
However, there are certain risk factors of ovarian cancer like:
Old age

Gene changes

Family History

Obesity
Moreover, for early diagnoses and early treatment, you should know about the symptoms of ovarian cancer. Once you know them, you stay aware of the disease. 
Let's know about the symptoms in detail.

Early Warning Signs and symptoms of ovarian cancer
The problem with ovarian cancer is that it produces non-specific symptoms that can be confused with other benign conditions, like gastric trouble. Hence, if you know these symptoms or observe any such changes in the body, you can immediately report them to your physician.
These symptoms of ovarian cancer include:
These symptoms can easily be confused for any other normal medical conditions like stomach issues, but remember to seek medical advice if these symptoms last for more than a few weeks or are noticed every day.
Furthermore, let's come back to the 'at home ovarian cancer test kit'.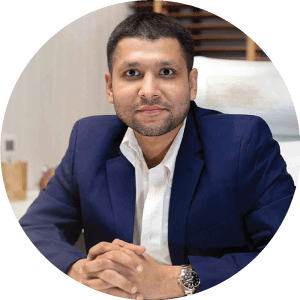 Dr. Jay Mehta
Fertility and IVF Specialist
Dr. Jay Mehta is the Scientific Director of Shree IVF Clinic. He is a well-known Fertility and IVF Specialist and also among few doctors in the country who specializes in Embryology and Andrology.