What is Noninvasive Prenatal Testing?
Non-invasive prenatal testing or NIPT is the method that detects the fetus's possibility of having genetic abnormalities or chromosomal disorders. NIPT can only see the high and low risk of a genetic condition. This makes it a screening test instead of a diagnostic test. Sometimes the chromosome's structure changes as a result of missing or duplicated segments of a chromosome. NIPT includes screening for such additional chromosomal disorders. It also detects Turner syndrome, Down syndrome, Edward syndrome, and patau syndrome.
What does NIPT test for?
NIPT essentially looks for an additional or misplaced copy of the X and Y chromosomes known as sex chromosomes. It also detects Edward syndrome (trisomy 18, which is caused by an extra chromosome 18), patau syndrome (trisomy 13 as a result of an additional chromosome 13). And Down syndrome (trisomy 21, which is caused by an extra chromosome 21) can also get detected.
How is the NIPT done?
A simple blood test with the mother's blood helps to determine any signs of abnormality. The doctor will match NIPT's report with that of the mother's first-trimester ultrasound or nuchal translucency screening. It will decide whether there is any need for further tests or not.
Indications for NIPT
High-risk women in pregnancy are advised to take NIPT. High-risk women include women with higher maternal age, I.e., above the age of 35, prior affected pregnancy, unusual fetal ultrasound detection. Another reason is when the serum screen report is positive, past personal or family history of a genetic disorder.
How accurate is NIPT result?
The result is usually 99% accurate because it is noticed that the condition affects less than 1% of all children born. A diagnostic test such as amniocentesis is much recommended along with NIPT to have an accurate result. A high possibility report is provided by the NIPT when a condition is absent in the fetus. NIPT is reliable than traditional screening tests.
Who it's for and when it's done?
NIPT is carried out between 9-10 weeks of gestation to the end of the pregnancy. Some parents opt for regular screening initially and then decide to get a NIPT if the traditional screening report comes with a high chance or positive rate. It is not recommended to go after a conventional screening if blood has been already collected for NIPT. For Extra information about the baby's health, it is advised to take a nuchal translucency ultrasound in the first trisemister.
It is generally for women at a very mature age of childbirth above 35 years of age, a couple having a personal or family history of chromosomal deformities.
Steps involved in NIPT
It examines cell-free DNA from the mother's blood sample, a combination of fetal and maternal DNA to screen for genetic disorders like Down syndrome, Edward syndrome, and patau syndrome. In the beginning, the plasma is separated from the mother's blood. Cell-free DNA is then taken out from the plasma and then examined. Data is created from the composed cell-free DNA. Advanced research is finally applied to the data.
NIPT is recommended for high-risk mothers exposed to specific issues that arise the possibility of having a child with genetic deformities. It is a non-risky process where a simple blood test can detect chromosomal abnormalities (if any). The report is simply presented with a clear "yes" and "no", and it is delivered within a very little time, which is advantageous as it makes sure of early treatment. It is especially very helpful for anxious mothers.
There are no highlights of certain genetic conditions in NIPT, making it a little reliable until conducting other tests such as amniocentesis or CVS. NIPT is not suggested when there are more than two fetuses in the womb, i.e., triplets, or quadruplets. Research has shown that NIPT induces termination in Down syndrome tendencies which is a social issue gaining concern with the increasing technical effect on our lifestyle.
Advantages of NIPT
NIPT's risk factor is deficient as the process contains only collecting a blood sample from the mother. NIPT has a reputation for giving accurate results for maternal blood samples on high-risk and low-risk pregnant women. Amniocentesis is a very much recommended test along with NIPT to get a precise result. Still, it includes the risk of miscarriage and also sometimes it is not as promising inaccuracy as it claims to be.
It is a quick method to detect genetic abnormalities. It generally takes 10-14 days for a rapid answer to chromosomal deformities. The report is usually with "yes" or "no". Quick delivery of the information helps couples a lot to proceed further.
NIPT test cost
A single test of NIPT initially prices at Rs.50, 000 to Rs.60, 000 in India which is now Rs.25,000. The initial high rate of the tests is because the doctors sent the samples abroad for examination. This is due to the lack of labs in India, but now some labs have started doing the tests within the country. It resulted in the lowering of the price.

 Google Reviews

Faiza Wadia
Dr Jay sir is the God of Endometriosis. There is no one better and more honest than him. Assistants Vismay sir and toral madam and harshita madam are so good.
I am operated here for severe endometriosis of the urine bladder. I am done laparoscopic surgery here under guidance of Jay sir. My recovery is excellent and I am heading back home in a day itself.
For people who have endometriosis, this is the person to go to.

Umesh
My wife was suffering from scar endometriosis for a period more than 1.5 years. We visited lot many doctors who gave us different opinions at different times.
We came to know about Dr. Jay from YouTube videos. He gave us best advice. In Sept 21, my wife got operated at his hospital and relieved of all the pain. Lot many thanks to you sir.

Basavaraj N
The best doctor for endometriosis in India and Mumbai.
We came from Karnataka to Mumbai to do surgery. He is such a famous surgeon and a doctor. Extremely impressed with your humble behavior.
My wife had bowel endometriosis. There is one thing that I wish to mention. He is a very straightforward doctor. He answers everything, but he doesn't take over the smart nonsense of the patient.
Don't go by his simplicity, he will make such strong punchlines that your ego will come down to earth. He asked me to be a MAN. I will never forget that motivation

B S KHAN
One of the best endometriosis doctor for doing surgery. We have come to Mumbai from Jalgaon for this surgery. Very fantastic hospital. Very famous dr jay Mehta and very kind with heart.
All blood tests are done in hospital only so no running around to laboratory again and again. There are many good food joints around for out of Mumbai patients to eat good food. Thank you staff for kind guidance.

Nawab Saab
I was suffering from severe endometriosis since years. We have had previous 3 surgeries. The pain was excruciating.
Finally we were told about Dr Jay Mehta by our doctor. My surgery was a big one. It involved bowel resection for endometriosis.
Dr Jay had assured me that I will up and bout in the next day of surgery and here I am. Going home. Pain free. This is one person who is GOD for me. I don't know how best to thank him. Thanks a lot. You are by far the best doctor for Endometriosis Treatment in Mumbai,  I have met in my life.
Thoroughly impressed by your direct and honest approach.

Nausheen Khan
The best doctor in India for Endometriosis. I am actually honored to be treated by Jay sir.
I had come to him 3 years ago when he told me about surgery, but I got misguided by many other doctors and I took a leupride of 11 injections. Unhappy with the result and pain, I come back to Jay Mehta sir.
He scolded me but then operated on me too. I thank you him, for being so an honest and genuine doctor.
The KING of Endometriosis as he is rightly called, considers my finances and operates me in charity surgery. My family bless you always
There are numerous medical conditions that often remain outside the general public's awareness. One such condition is the absent vagina
Absent vagina, also known as Mayer-Rokitansky-Küster-Hauser (MRKH) syndrome, presents unique challenges to those it affects.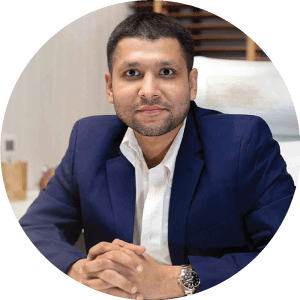 Dr. Jay Mehta
Fertility and IVF Specialist
Dr. Jay Mehta is the Scientific Director of Shree IVF Clinic. He is a well-known Fertility and IVF Specialist and also among few doctors in the country who specializes in Embryology and Andrology.