Hymenoplasty is a surgical technique to repair the hymen. The hymen is a soft membrane placed at the end of the vaginal entrance and partly covers the vaginal opening in women. Also known as hymenorrhaphy, this cosmetic surgery restores a woman's torn hymen in her vaginal area.
After the treatment, the patient will be monitored for a few hours in the recovery room. If there are no difficulties, a patient gets discharged from the facility. After 3 to 4 days, the person can return to work. However, it is recommended that you undertake moderate activities only after ten days of being on the pill.
Reach us by
contacting our 24/7 support team!
Reach out to us by contacting our 24/7 support team!
What are the various procedures to perform Hymenoplasty surgery?
A consultation with the doctor is the first step in planning your hymenoplasty surgical operation and defining your expectations. Preparation for Hymenoplasty will be explained to you in detail by your physician.
The basic technique: It is possible to suture the hymen back together if there are any remnants of hymen. Cosmetic gynecology doctor will give you anesthesia to reduce pain and discomfort. Surgeons will next use dissolvable stitches to reattach the damaged pieces. In most cases, the hymenoplasty procedure takes 30 to 40 minutes to complete.
Implant technique

: When doctors can't put the fragments together, they prefer this method. They insert a biomaterial or hymen implant into the vagina to act as a hymen.

Hymen reconstruction:

A new hymen is created from the vaginal lip tissue in this hymenoplasty surgical operation. However, you will need to refrain from sex for at least three months to use this procedure.
Who needs Hymenoplasty Surgery?
Most women consider hymenoplasty because of cultural or religious beliefs. In most situations, the individual has had intercourse and wishes to reclaim her virginity. In certain situations, the hymen has been lost due to non-sexual behaviors. But due to religious or societal conventions, they believe it necessary to restore it. It's also important to get a gynecological checkup to see whether your hymen can be repaired or not.
Candidates for consideration include:
Due to sexual or other actions, the hymen has been ruptured.

Those above the age of 18 are eligible.

Women who are in good health and do not have any major medical conditions.
What can you not do after Hymenoplasty?
Even though patients may return to work immediately after surgery, doctors suggest that they rest for at least 24–72 hours to enable the body to repair properly.
Even after a few weeks of recovery from surgery, patients may still experience some residual bruising and swelling. Some discomfort may be felt for a few days, but it will quickly subside. In addition to providing relief from discomfort and protecting the surgical site from infection, doctors often prescribe antibiotics and pain medicines to ensure a speedy recovery.

One month of no sexual activity or the use of pads or tampons is recommended to heal the surgical site. In addition, maintaining the integrity of the hymen will help to prevent it from breaking.

Swimming in a public pool or sauna should be avoided for at least three or four weeks to prevent the spread of illnesses.
How long does Hymenoplasty take to heal?
The whole treatment takes around 30 minutes. So it might take anywhere from four to six weeks for a patient to fully recover from the treatment.
Can you exercise after Hymenoplasty?
Lifting large things and engaging in vigorous activities should be avoided at all costs. Patients may begin modest activity one week following surgery, though. Four to six weeks are required for a complete healing process to take place.
Can hymen be broken twice?
Once the hymen has been stretched open, it will not regrow. The hymen is a narrow band of soft tissue that spans the entrance of the vaginal canal. Although it is possible to open the hymen the first time you have intercourse via the vaginal canal, the hymen may be opened by means other than vaginal intercourse.
Can I see the stitches after the surgery?
Stitches may usually be seen two weeks following Hymenoplasty, although this is to be expected. If you wash the region with cotton, you risk attaching minute cotton particles to the sutures, leading to infection. If you're taking the bus, take extra caution getting on and off the bus. Small, close-toed steps are the way to go. 
For example, taking a long, high step to get aboard the bus may put a lot of stress on the sutures, and some of them may break. On the third day following surgery, you may have normal blood flow. Depending on the treatment and your circumstances, including how fast the Hymenoplasty has healed, you may bleed during your first intercourse after a hymenoplasty. 
Hymenoplasty is performed in a variety of ways to meet the specific demands of each patient. In cases where bleeding during the first sex after surgery is a big issue, doctors make sure that you bleed during the first intercourse after surgery. Triple Safety Mechanism (TSM) surgery may be used in susceptible situations with an increased risk of hymen membrane rupture. They guarantee that it stays stable in the three-week post-operative period and does not break by this TSM approach.
Conclusion
A vaginal hymenoplasty is a surgical procedure in which the hymen is reconstructed. Even though a hymenoplasty won't help a woman regain her virginity, it might boost her self-esteem and restore the look of her hymen.
If you wish to know anything else about this procedure, you can talk to our experts.
Was this blog helpful for you?
Give us a clap
claps,
they found this blog helpful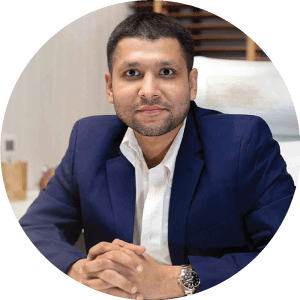 Dr. Jay Mehta
Fertility and IVF Specialist
Dr. Jay Mehta is the Scientific Director of Shree IVF Clinic. He is a well-known Fertility and IVF Specialist and also among few doctors in the country who specializes in Embryology and Andrology.
Laparoscopic operations are minimally invasive procedures used to treat disorders such as gallbladder stones, hernias, hysterectomy, endometriosis, and uterus removal.
A hysterectomy is a surgical procedure to remove the uterus. For a broad range of causes, your doctor might suggest a hysterectomy.